🍕MARCH CAFETERIA MENU🍕 Attached is the cafeteria menu for March.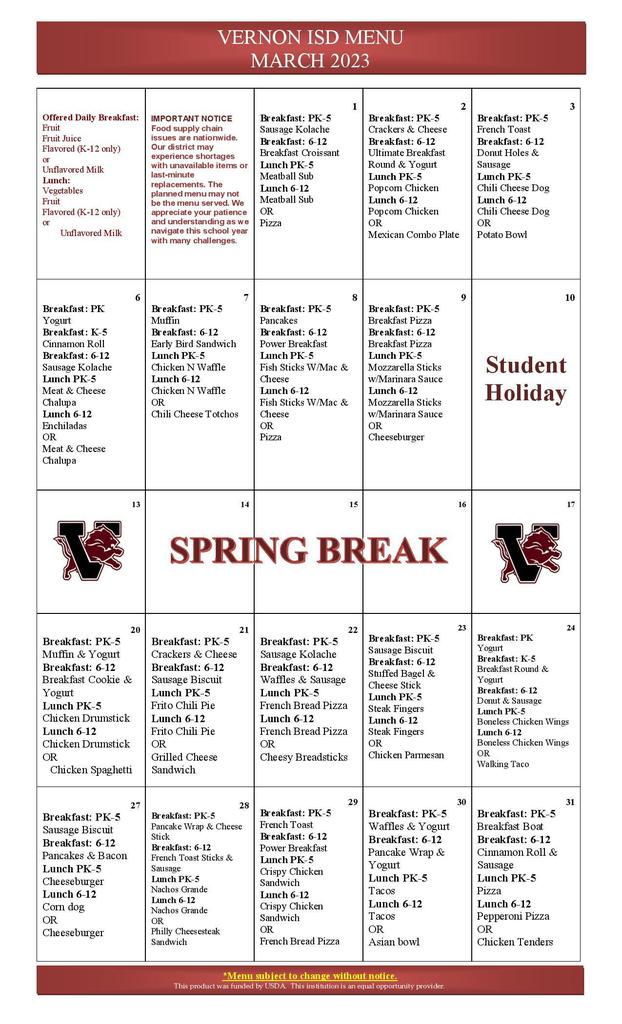 SAVE THE DATE!!! Join us on March 25, 2023, for our Community Resource Fair. For more information, please reach out to Nicole Cameron at
nicole.cameron@visdtx.org
or (940)553-1900, ext. 2248.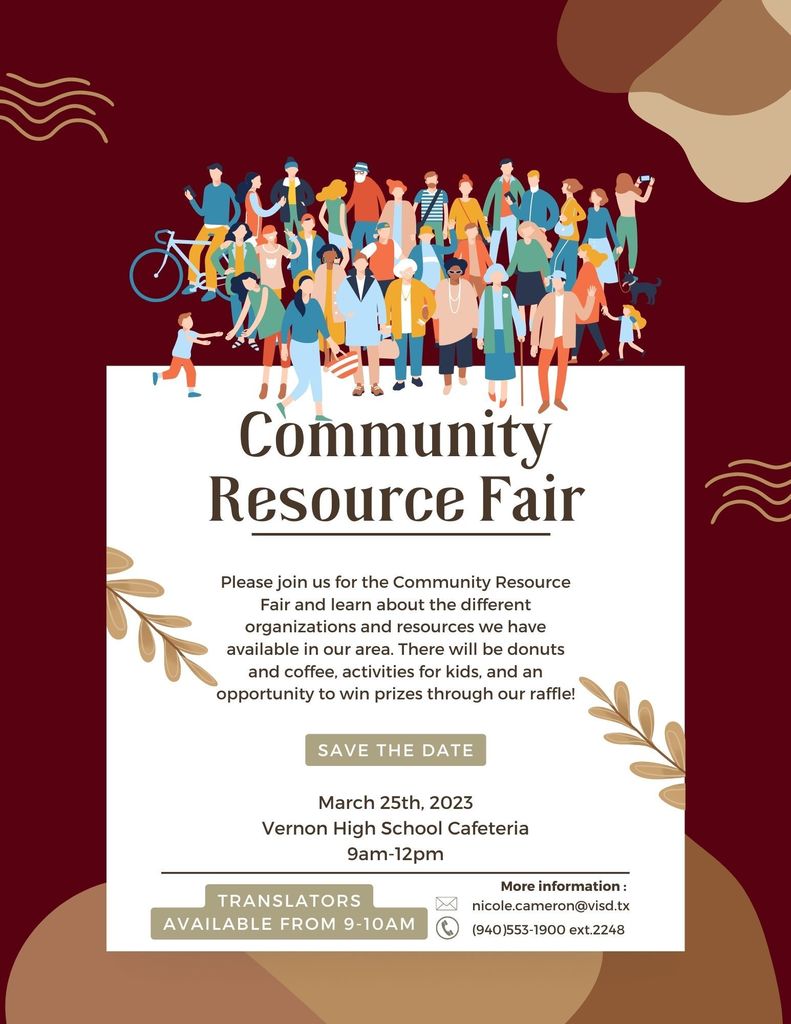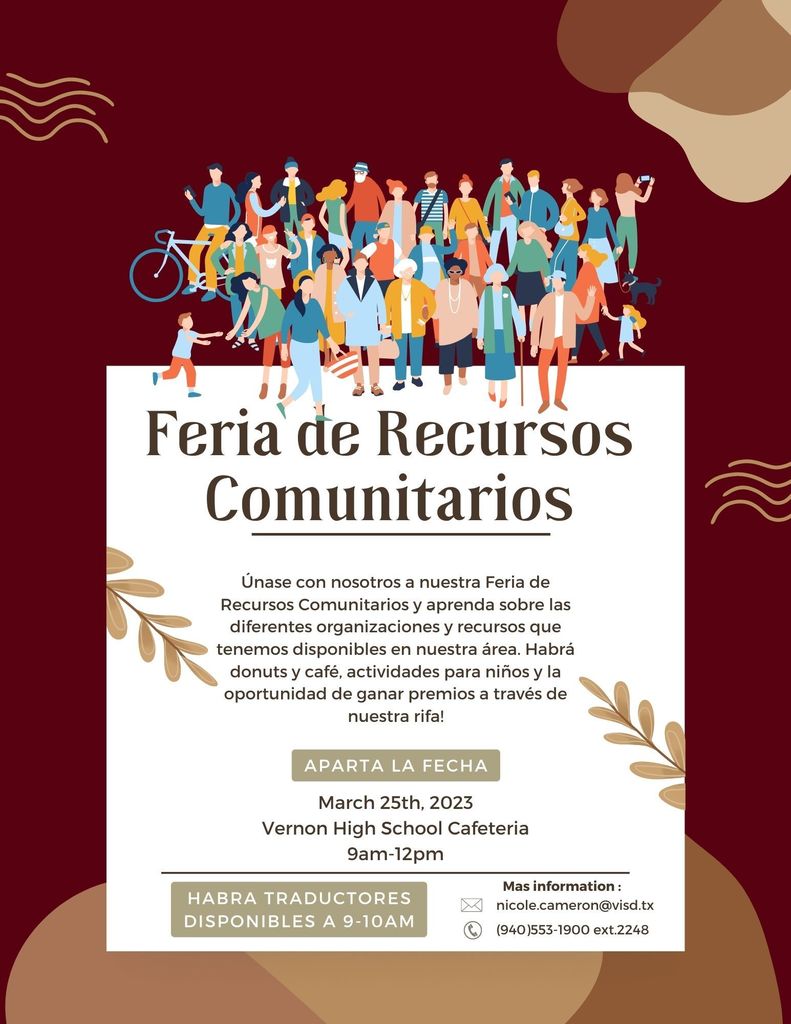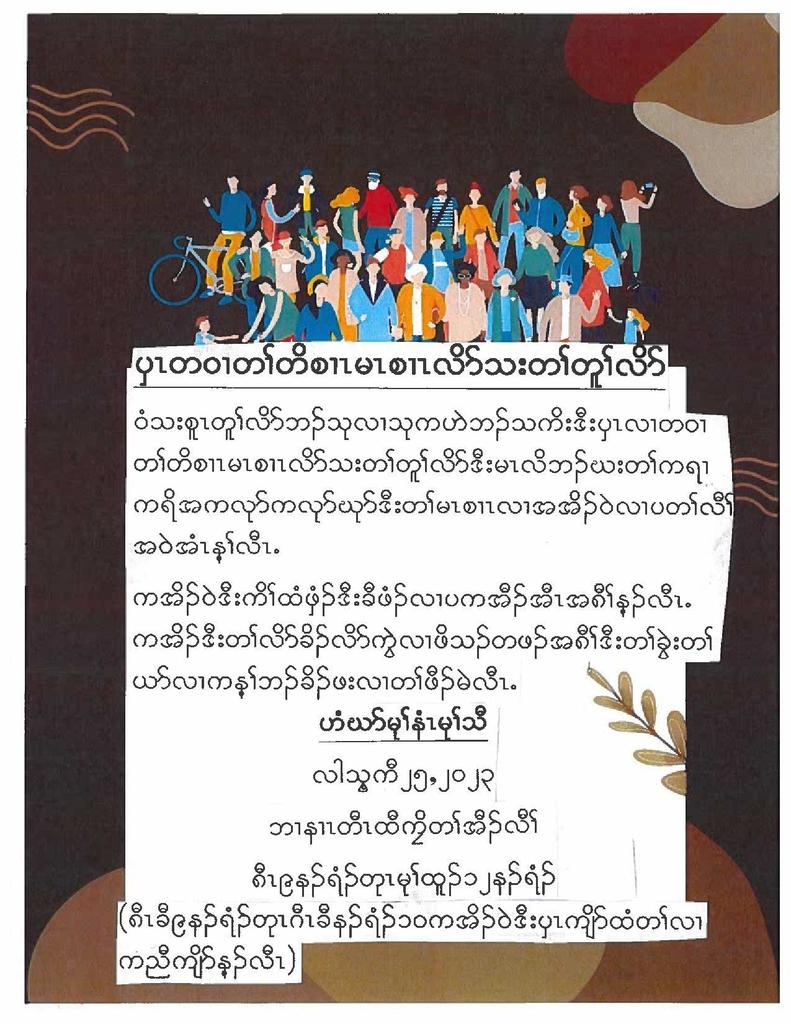 Dr. Harrison is here today visiting with our VMS and VHS students about bullying prevention. This morning he was at the high school and this afternoon he'll be talking to our middle school students. Our students were great in the presentation and by now I am no longer even surprised! Please remember that Dr. Harrison will be at the Wilbarger Auditorium TONIGHT at 6:00pm for our parents and the community. Please come out and participate so that we can all work together to prevent bullying in our schools.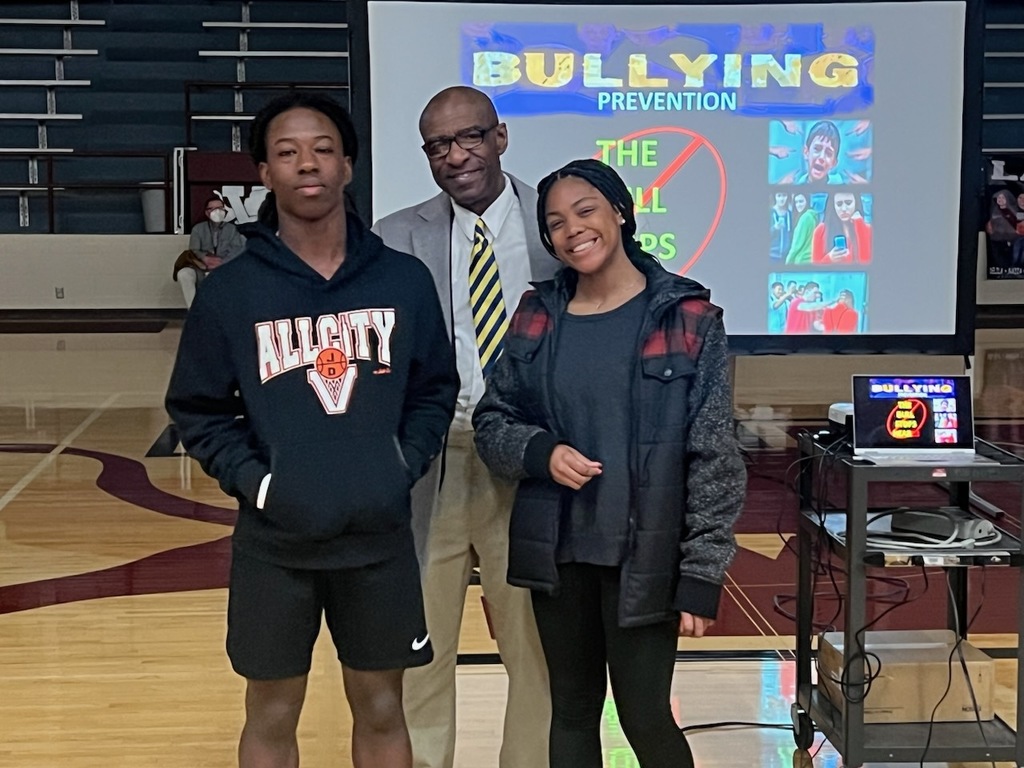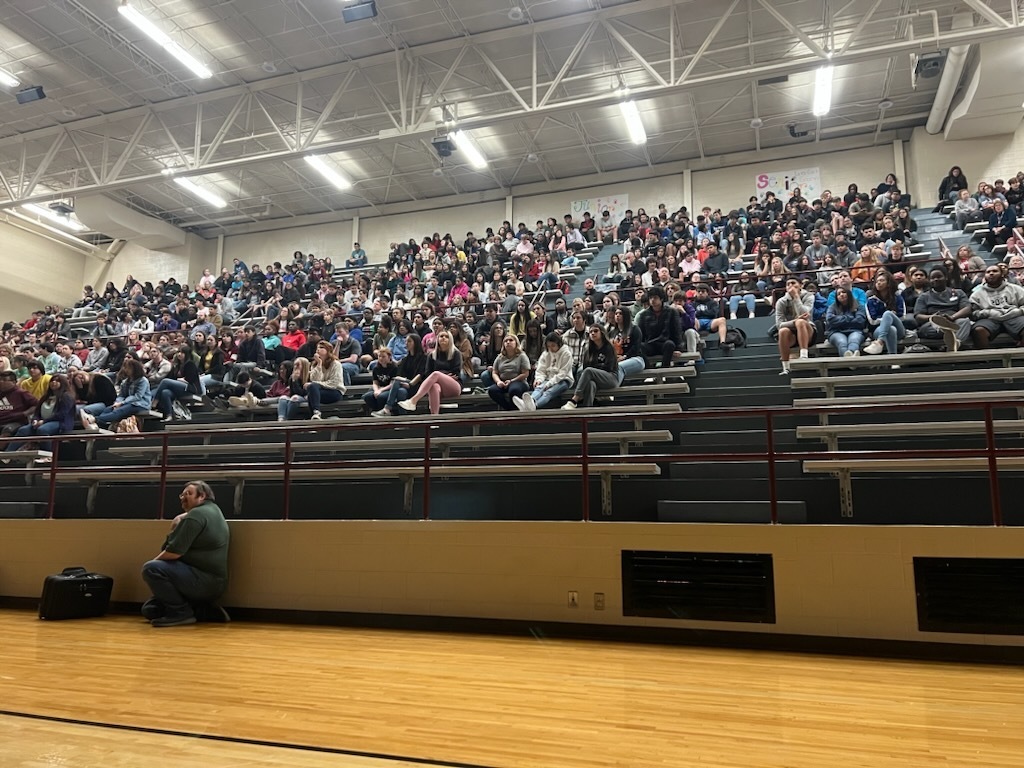 I maintain that VISD kids are collectively the best kids I have ever been around. Our kids consistently demonstrate to me that they are not resistant to working within the expectations that we set for them. Although expectations for our students existed here before me, I encourage each staff member in this district to evaluate those expectations and ask themselves are there opportunities to elevate our current expectations thus forcing our kids to perform at an even higher level. While I do not consider bullying to be a critical issue in VISD, it is an issue that I want us to address. We have a responsibility to the community, and to our kids, to be proactive in our planning. For this reason, we are bringing Dr. George Harrison to Vernon to speak to our students. He will be meeting with the VMS and VHS students during the school day. In addition, we have asked him to meet with our community and parents as well. We want everyone to work together to help prevent bullying. I am encouraging each VISD parent to support the district's effort and attend the parent presentation on bullying on Tuesday night at 6:00pm at Wilbarger Auditorium. Dr. Ward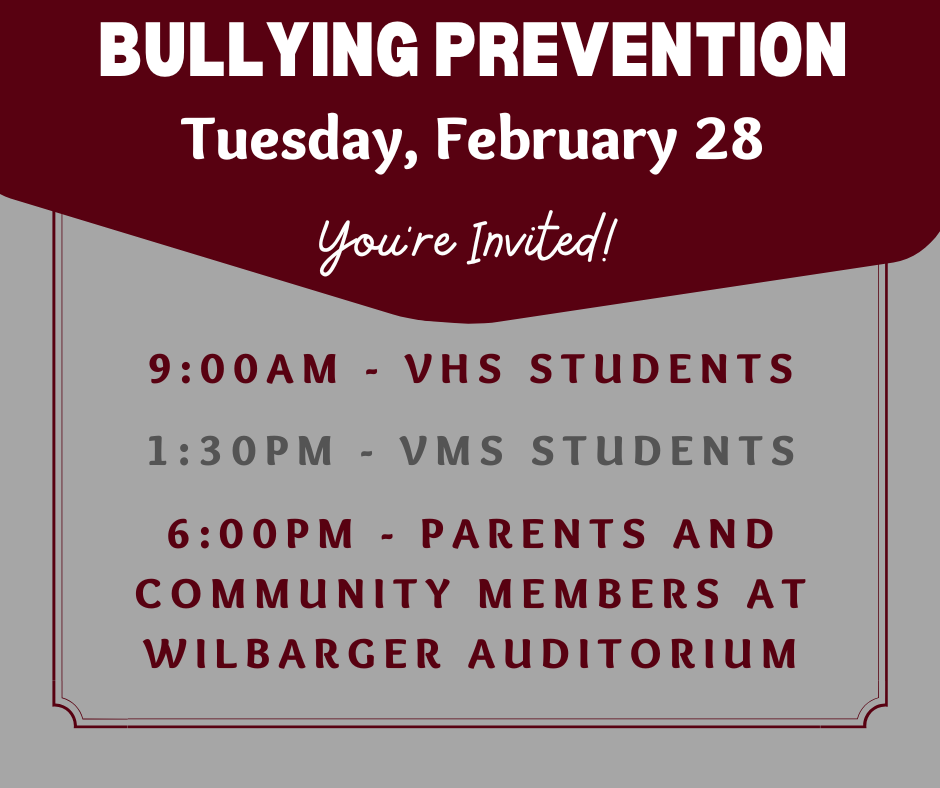 The GT students did a great job with their presentations for three judges and Dr. Ward last week. They worked for almost a month on a Community Improvement Project and worked up a proposal on how they could use a million dollars to "better our town." One group chose commerce. They researched the cost, viability, and necessity of bringing in a strip mall to increase city revenue and occupancy. The other group chose conservation. They researched the cost, necessity, and management of building and maintaining a year-round community garden to help promote healthy eating and feeding the homeless population. After the presentations and questions/answer segments, it was determined the conservation team won. They will be presenting to the board on Monday at 6:30.
Congratulations to our students of the week! 6th Grade: Brynlee Rozzell and Jacobi Pedigo 7th Grade: Olivia Hawkins and Ryan Fieldhouse 8th Grade: Alyssa Adams and George McCarty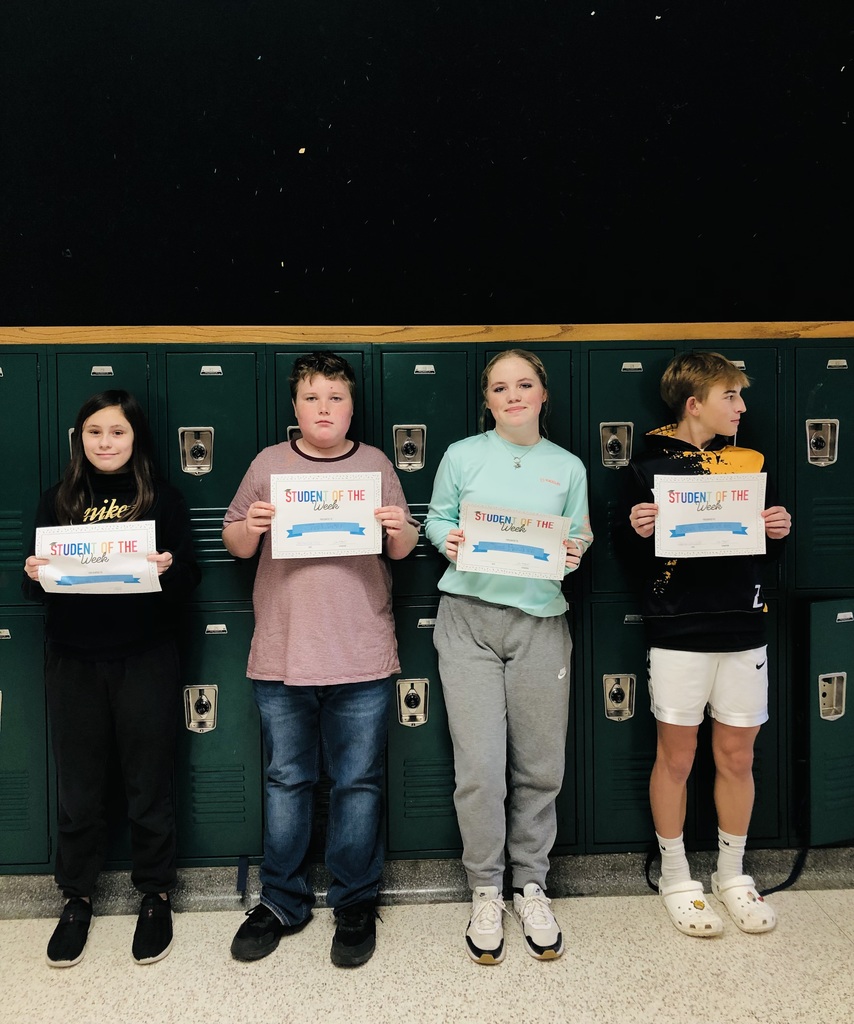 Vernon ISD is bringing in Dr. Harrison to talk to our students and community about bullying prevention. Dr. Harrison will be at the following locations on February 28. - Vernon High School to meet with the students at 9:00am - Vernon Middle School to meet with the students at 1:30pm - Wilbarger Auditorium to meet with the parents and the community at 6:00pm We look forward to working with our students and the community to prevent bullying.

The 1st Annual Vernon ISD Education Foundation 4-person Golf Scramble is scheduled for April 22, 2023. All are welcome to participate! The Vernon ISD Education Foundation is a non-profit organization, created to uphold our mission of being an exemplary education community. In this inaugural year, the Foundation aims to raise funds to support teachers and staff in their role of increasing achievement and academic success for our students. Sponsorship opportunities are available. For more information, please contact Kori Eakin at
kori.eakin@visdtx.org
or by phone (940)553-1900 ext. 2229.

⚾Vernon Lions Club has a KID LEAGUE BASEBALL ANNOUNCEMENT! Registration Starts: Monday, March 6, 2023 to Wednesday, March 22, 2023 (Registration will NOT be accepted after March 22, 2023) ONLINE REGISTRATION: $35.00/Player Parents interested in registering their child to play Kid League Baseball should register them online using the website address listed here:
https://bit.ly/KLBRegistration23
Download a copy of this Registration Form here:
http://bit.ly/3ZfC3a7
(Registration information will be sent home with your student in the upcoming weeks) For Questions, Please contact League Director, Dustin Fraticelli at (940) 357-9422.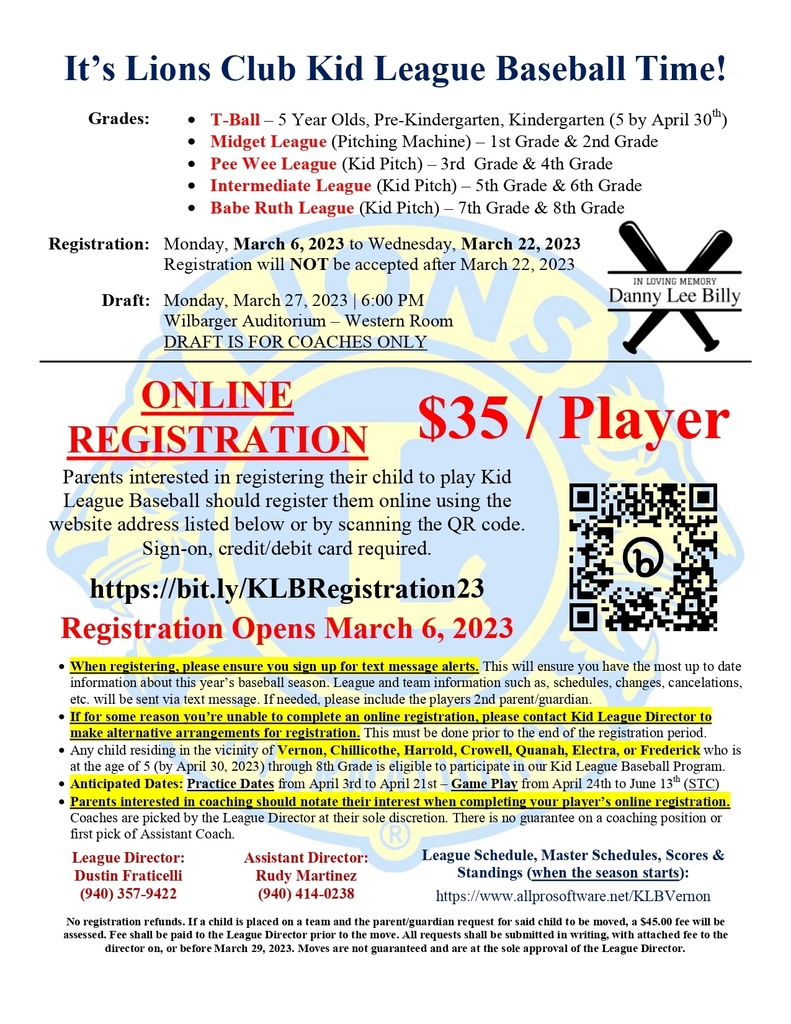 Just a reminder that there will be NO SCHOOL on Monday, February 20. All campuses will be closed on this day. Enjoy the weekend and we will see you all again on Tuesday!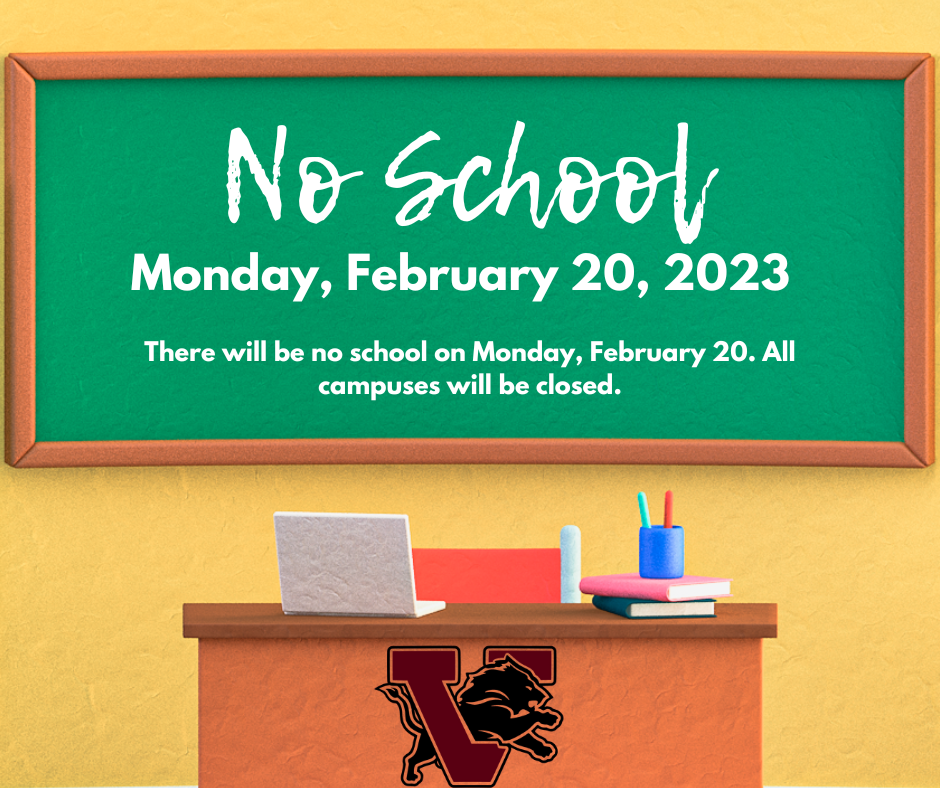 We wanted to let your parents and students know that Skyward Family Access will be unavailable from February 17 at 6:00 pm-February 18 at 6:00pm. The program is conducting updates and maintenance.

🚨UPDATE: The reported threat in the Vernon area has been resolved by Vernon law enforcement. All campuses will revert back to their normal status. Thank you for your trust!!! We were made aware of a 3rd party threat on a building near the Vernon Middle School campus today. Although the threat was not regarding the Vernon Middle School campus itself, we take this and any other threats seriously and will be overly aggressive in keeping kids safe. For this reason, I have mandated that Vernon Middle School, Central Elementary, Opportunity Center, and DAEP be moved to "secure" status. What this means is that all exterior classes will be moved inside so that all of our students can remain safe under the close watch of all staff members. Respectfully, Dr. Kermit Ward

Vernon Community, Good morning, VMS parents and family members. We would like to inform you that next week VMS will be holding class meetings for all students. The goal of the meetings is to refresh student expectations, norms and campus rules, as well as to introduce new incentive programs. Topics that we will discuss with the students are: Dress code Restroom policy Use of cell phones, smartwatches and ear buds while in school Disrespect toward peers and adults Being on time to school and class Fighting and bullying Grades Discipline policies Many of our students are doing absolutely amazing, but we feel it is time to revisit the expectations here at VMS. We want to recognize the efforts of those students doing well and we will discuss incentives for maintaining and improving in areas such as grades, attendance and discipline. We believe it is important to include our students in these discussions, so our student council and SAC team are already in the process of developing incentives and are excited to implement these as soon as possible. We thank you for entrusting us with the education of your children and we take this responsibility very seriously. We enjoy spending each day with them and look forward to working closely with them as we continue to improve their experience here at VMS. As always, if you have any questions please feel free to reach out to Mr. Burnheimer or Mrs. Sasse. Thank you all for your support.

📢 WE'RE HIRING!! 📢 Vernon ISD is hiring a Secondary Instructional Coach and an Elementary Instructional Coach. You can apply online at bit.ly/ApplyVISD. We can't wait to work with you!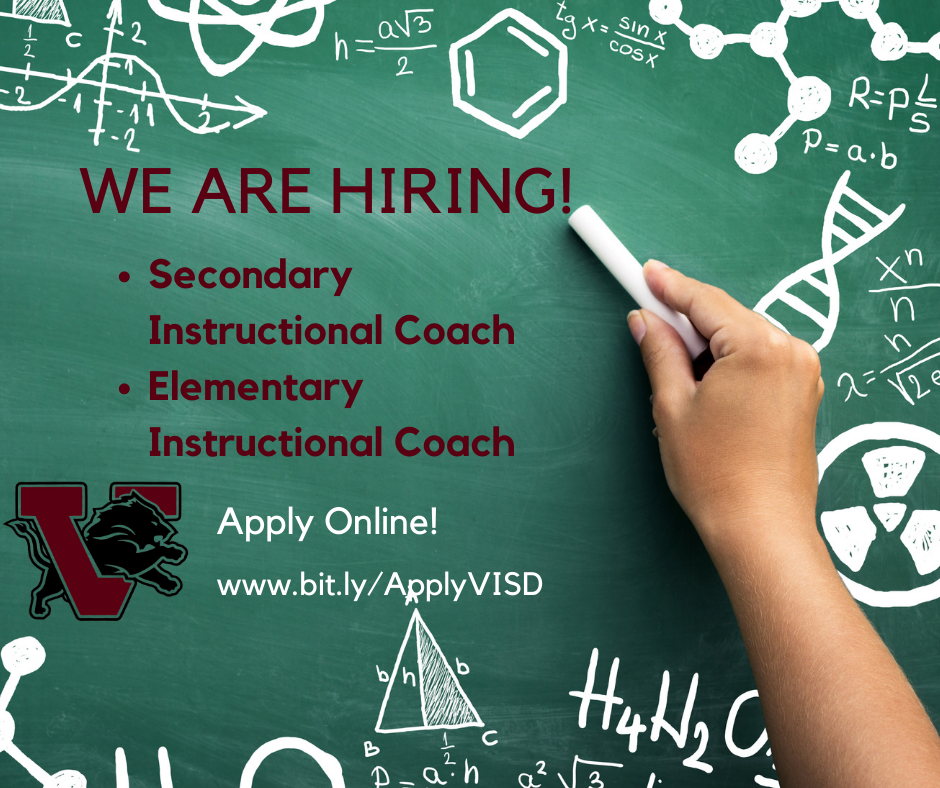 Congratulations to our students of the week for February 6th - 10th! 6th Grade: Chris Say and Aaron Morales 7th Grade: Silence Edwards and Matthew Pena 8th Grade: Maylana Moralez and Austin Isnhower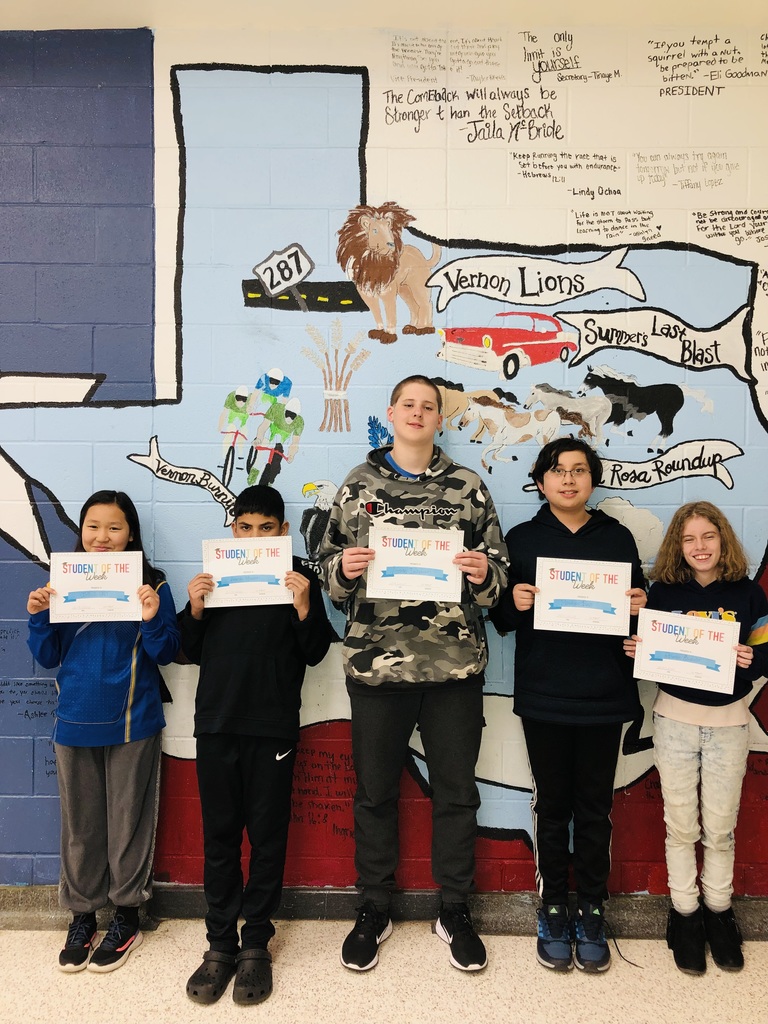 Good afternoon VMS parents and families. I just wanted to reach out and let your know we did an emergency lock down drill this morning. I cannot be prouder of how the students and staff reacted. Simply put, everyone was 100% on in ensuring their safety. When you child comes home please praise them on how well today went. Thank you, Mr. Burnheimer
Congratulations to our students of the week for last week! 6th Grade - Gia Castillo and Michael Carter 7th Grade - Kenzie Matheson and Sher Moo 8th Grade - Olga Alvarado-Castillo and Adrain Felton
Reminder: Spinal screenings will be done tomorrow for 7th grade girls and 8th grade boys by our nurse, Mrs. Walker. We ask that all girls please wear a swimsuit top or sports bra under their shirts as they will have to remove their shirt for the exam.