Quick reminder: Vernon ISD will be closed Monday. This day was designated as an inclement weather make-up day on our school calendar. Since we do not have to use the day to make up missed class time, classes will be dismissed. Enjoy your 3-day weekend. We will welcome our students back on Tuesday!!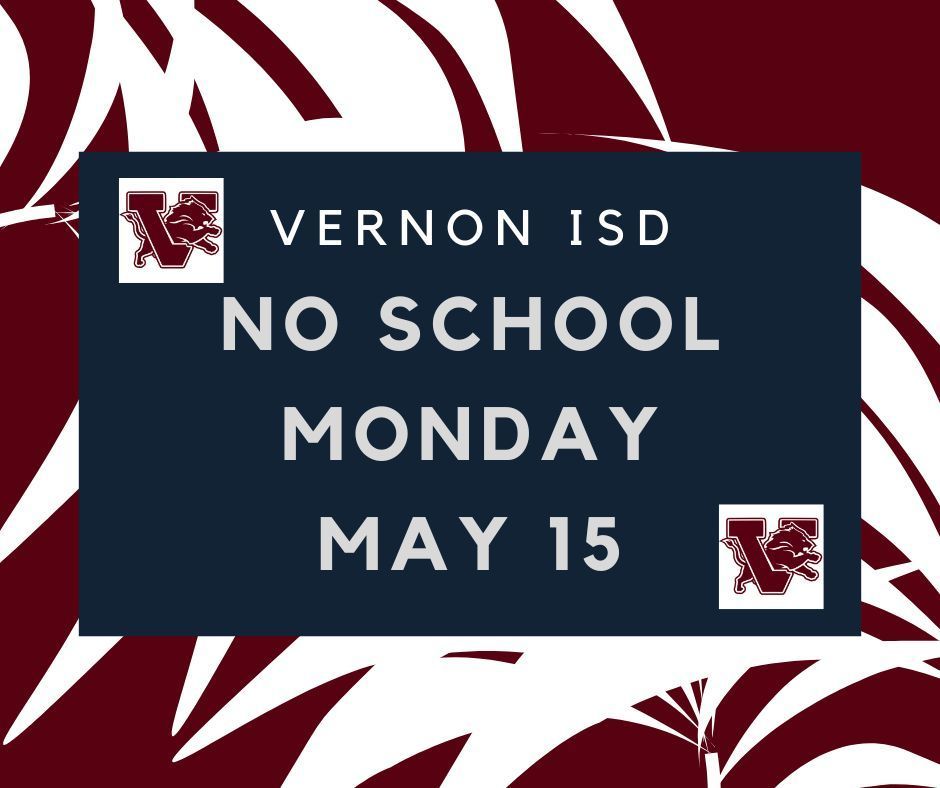 Today is School Nurses Day and Vernon ISD has some of the best!! Rhonda Garrett, Mandie Thomas, Jennifer Walker and Brandi Whiteside -- THANK YOU for all you do for our students. You are greatly appreciated!
The 7th & 8th Grade Band performed last night during the VMS/VHS Band Department Annual Spring Concert. During the program yearly awards were also presented. Receive awards for the 7th Grade were: Gabriel Juarez, Co-Outstanding Woodwind; Jesse Mejia, Co-Outstanding Woodwind; Flor Ortega, Outstanding Brass; Ehpolo Htoo, Co-Outstanding Percussion; and Julian Rodriguez, Co-Outstanding Percussion. 8th Grade award winners were: Sarah Black, Co-Outstanding Woodwind; Ariana Mendoza, Co-Outstanding Woodwind; Kyliegh Taylor, Co-Outstanding Woodwind; Christian Perez, Outstanding Brass; Edgar Morales, Outstanding Percussion; and Luis Perez, Overall Outstanding Cat Band Member.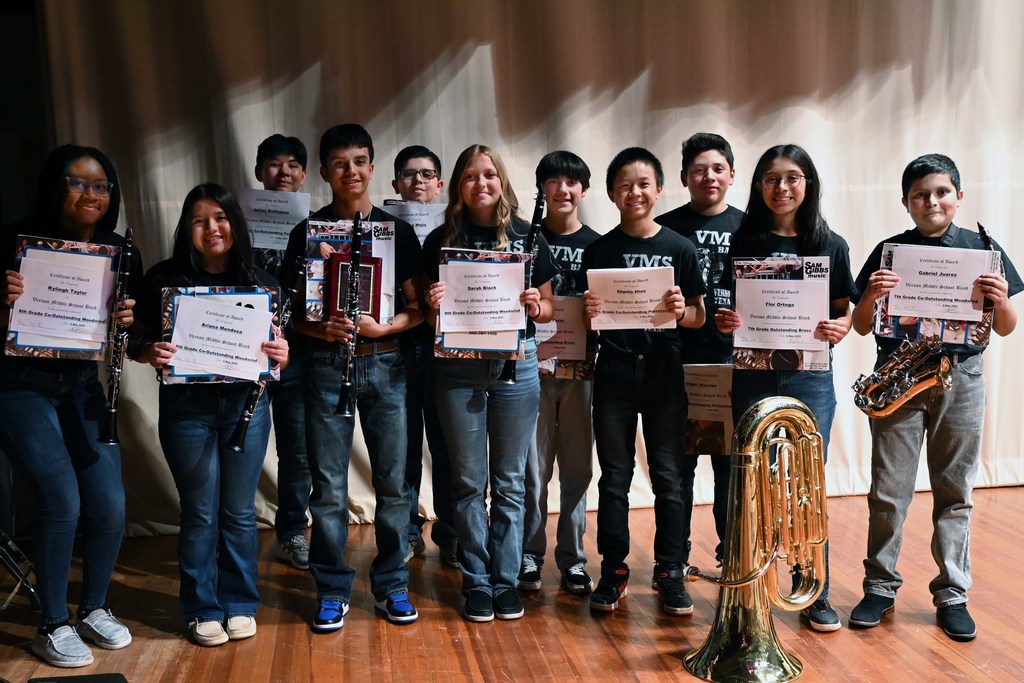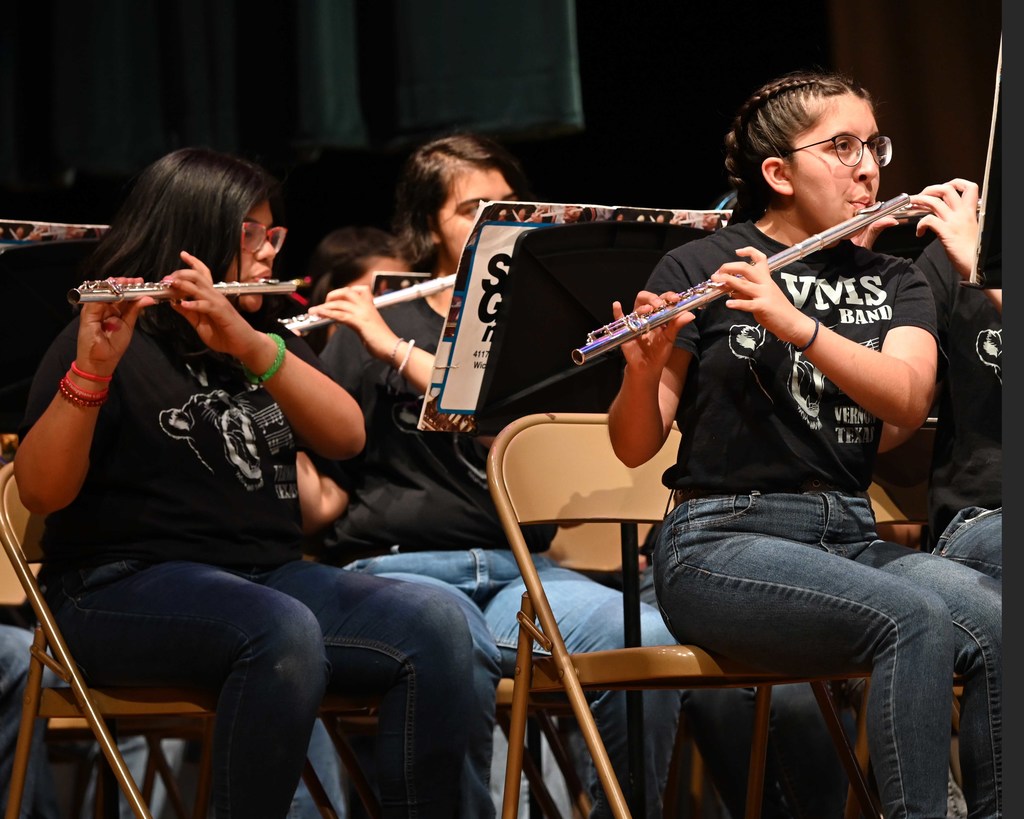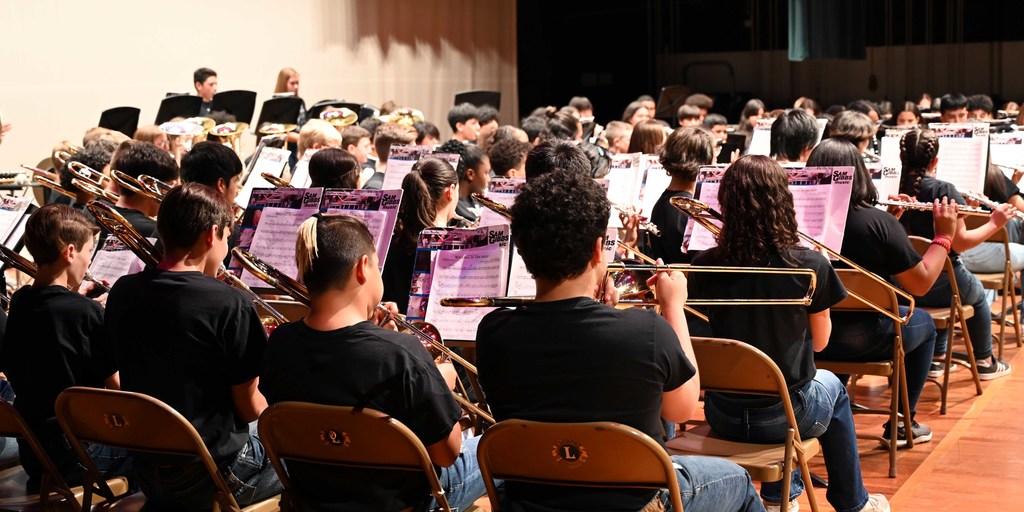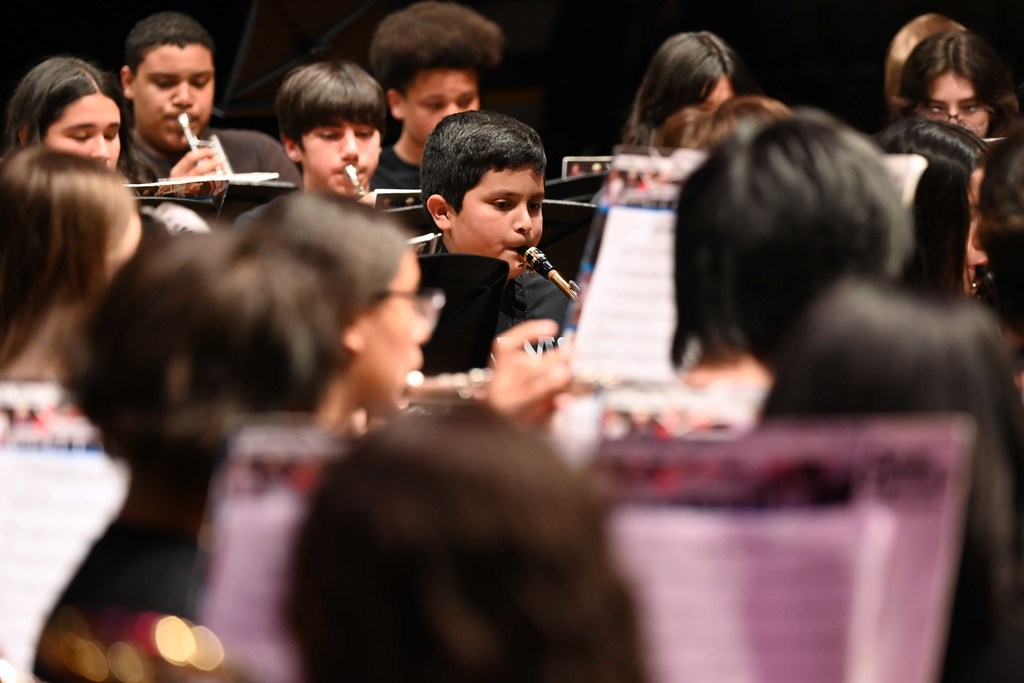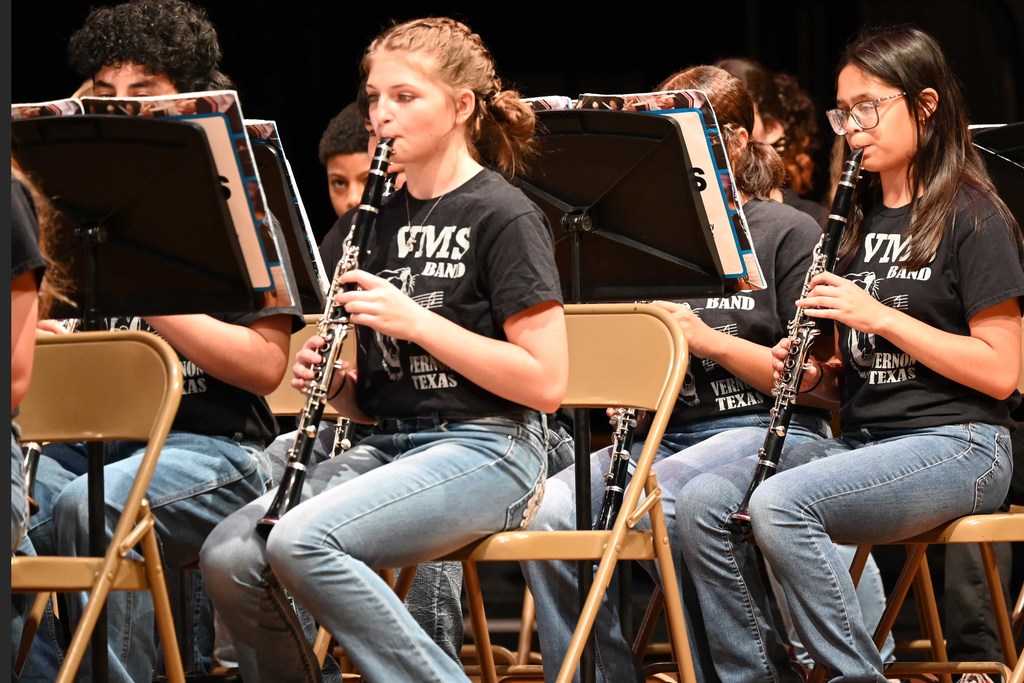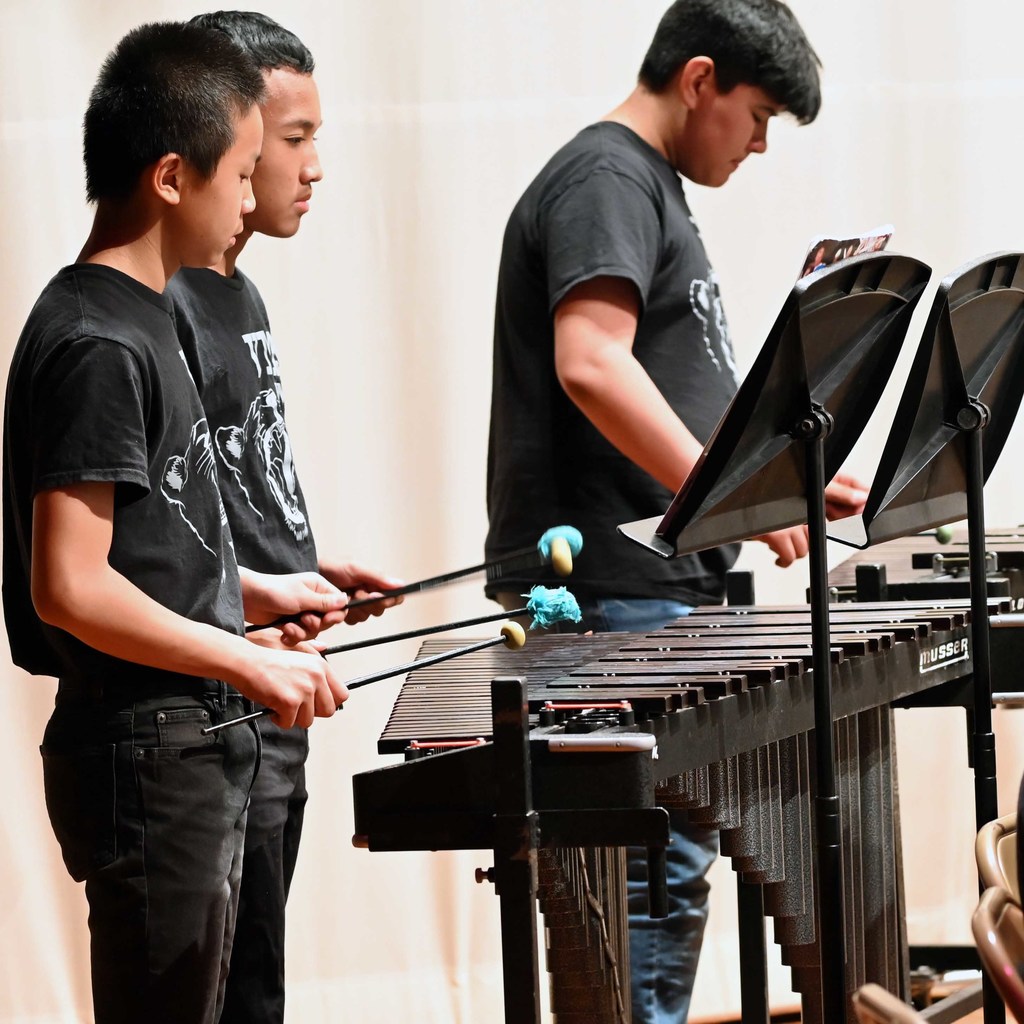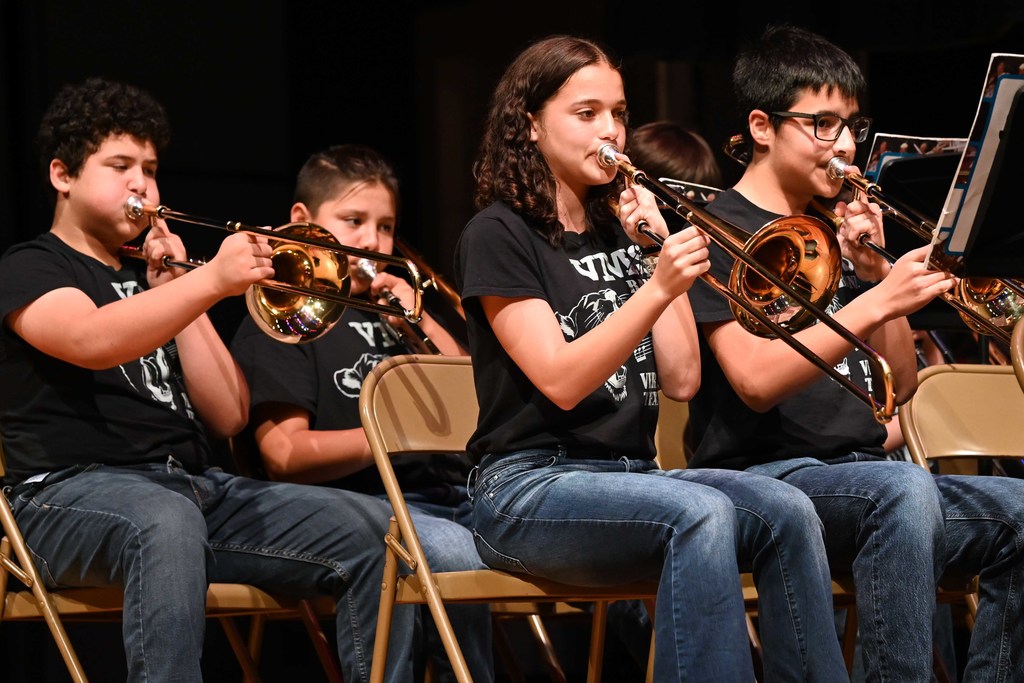 The 6th Grade Band performed last night during the VMS/VHS Band Department Annual Spring Concert. Awards were also presented for the different instruments. Award winners included: Gabriella Edmonds, Outstanding Flute; Varshini Kadiyala, Outstanding Clarinet; Marco Galvan Garcia, Outstanding Alto Saxophone; Preston Long, Outstanding Tenor Saxophone; Spencer Voelkel, Outstanding Trumpet; Sophia Bohannon, Outstanding French Horn; Braeden German, Outstanding Trombone; Jordyn Briggs, Outstanding Baritone; and Jacobi Pedigo, Outstanding Tuba.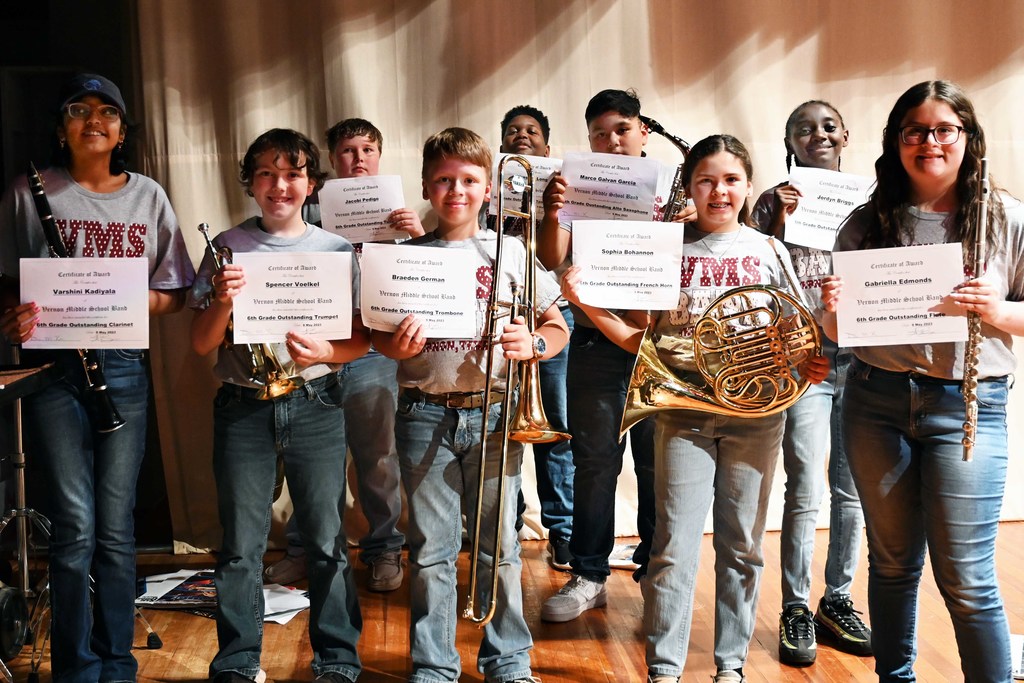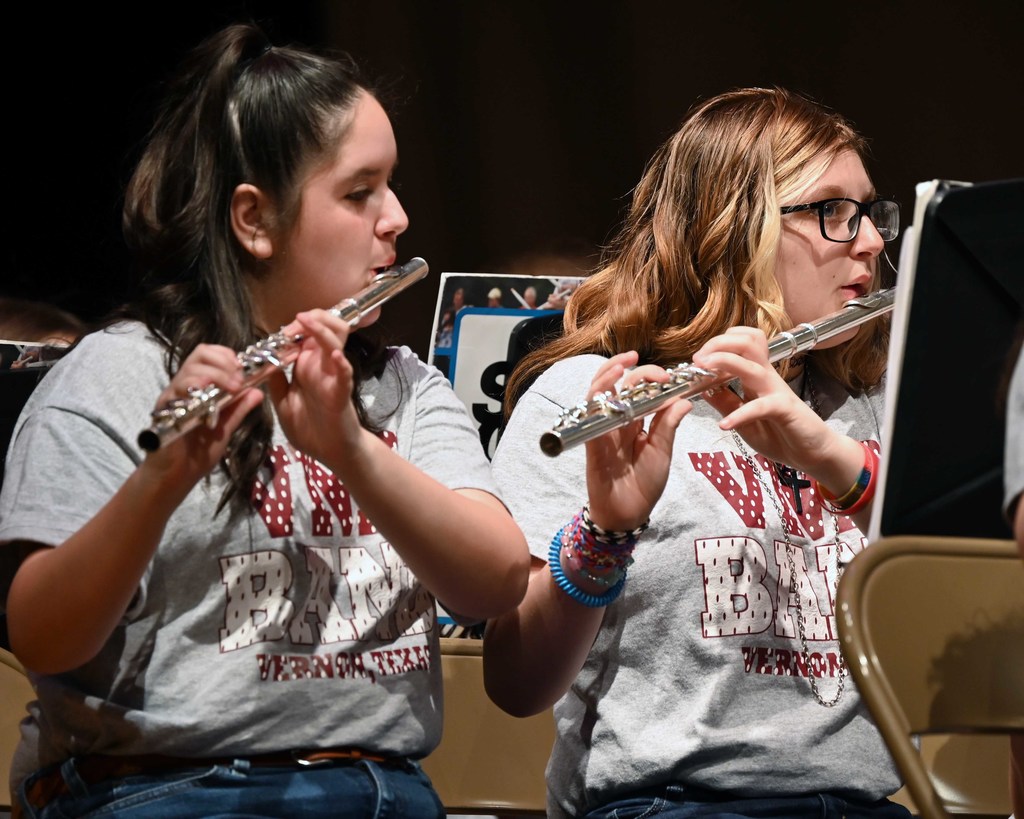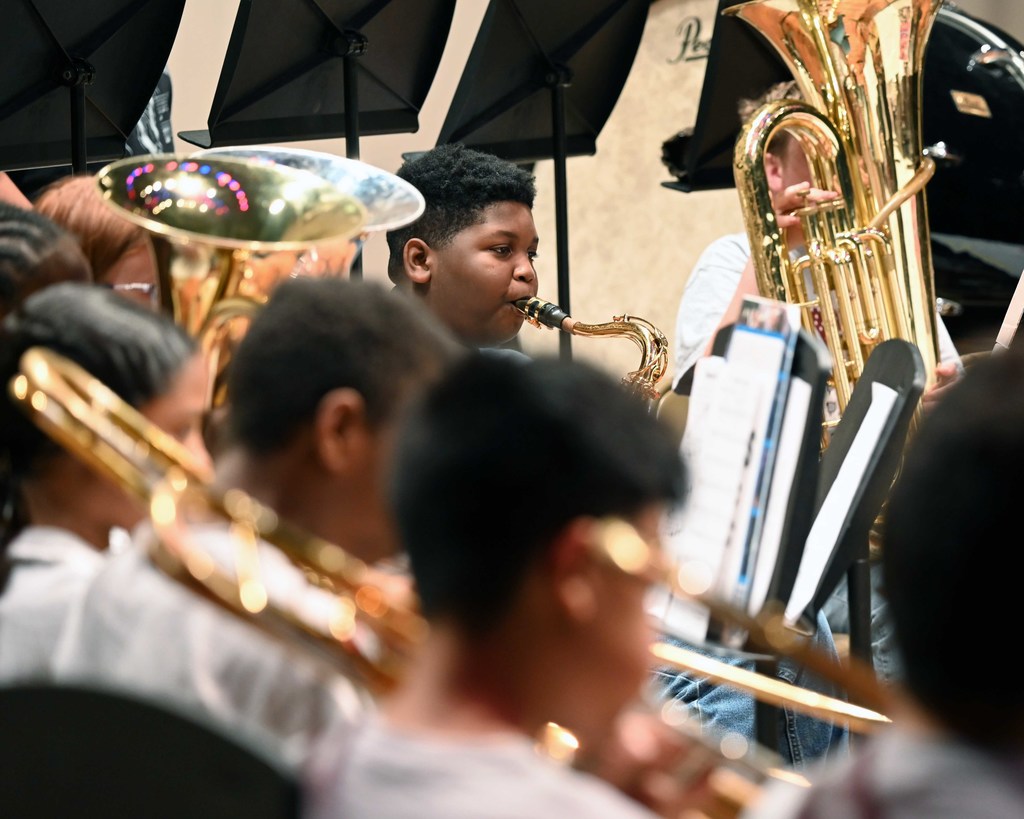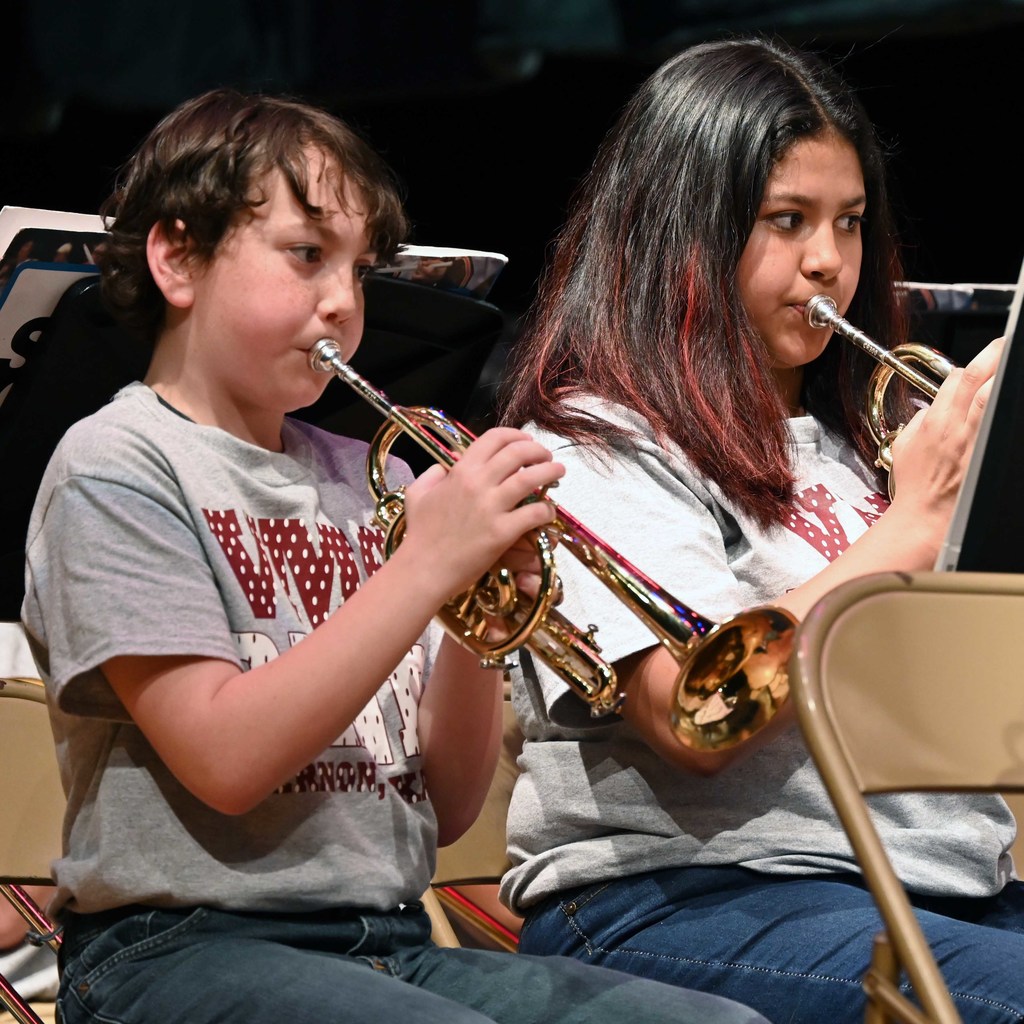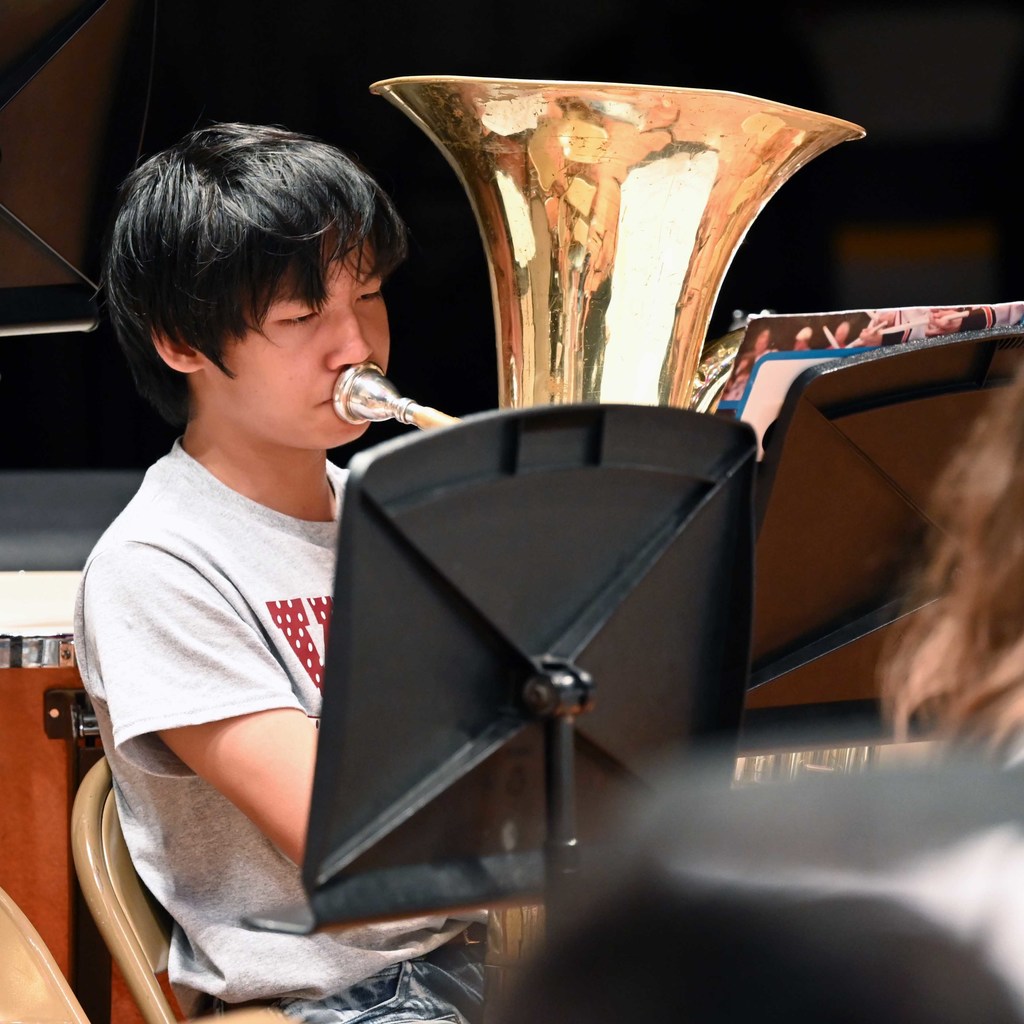 Congratulations to Vernon Lion Hyme Guzman, who has been selected to play in the annual Oil Bowl Classic!
This week is Teacher Appreciation Week and this morning Vernon Mayor Pam Goslin visited Vernon Middle School this morning and read a proclamation over the intercom thanking the teachers for their hard work and dedication, and encouraging members of the community to "congratulate all educators who engage, equip, and empower our learning community for a limitless tomorrow." We would like to thank Mayor Goslin for her and the city's support, and for kicking off our Teacher Appreciation Week in style!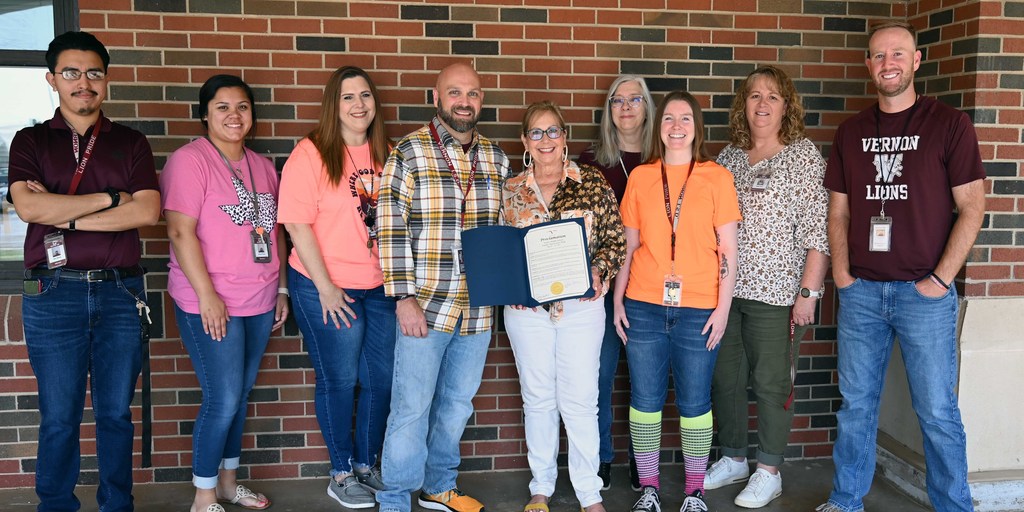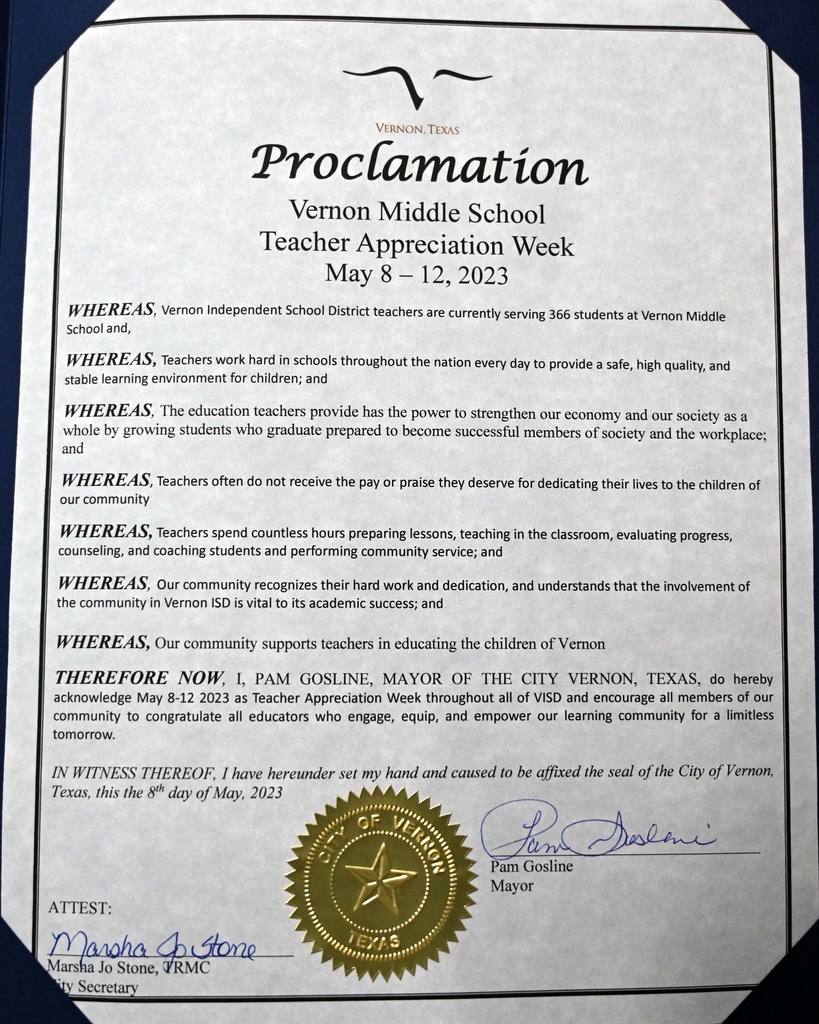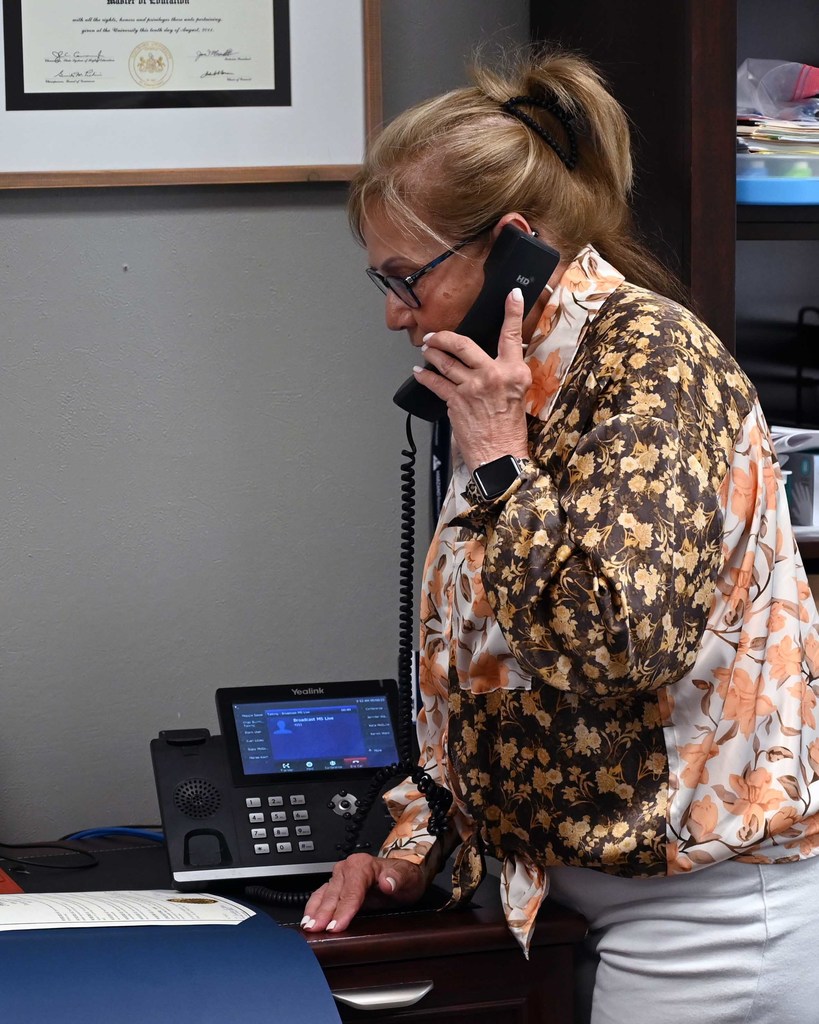 Our VMS/VHS Band Spring Concert will be held Tuesday evening. Along with the three bands performing, Student Band Awards for the school year will also be presented.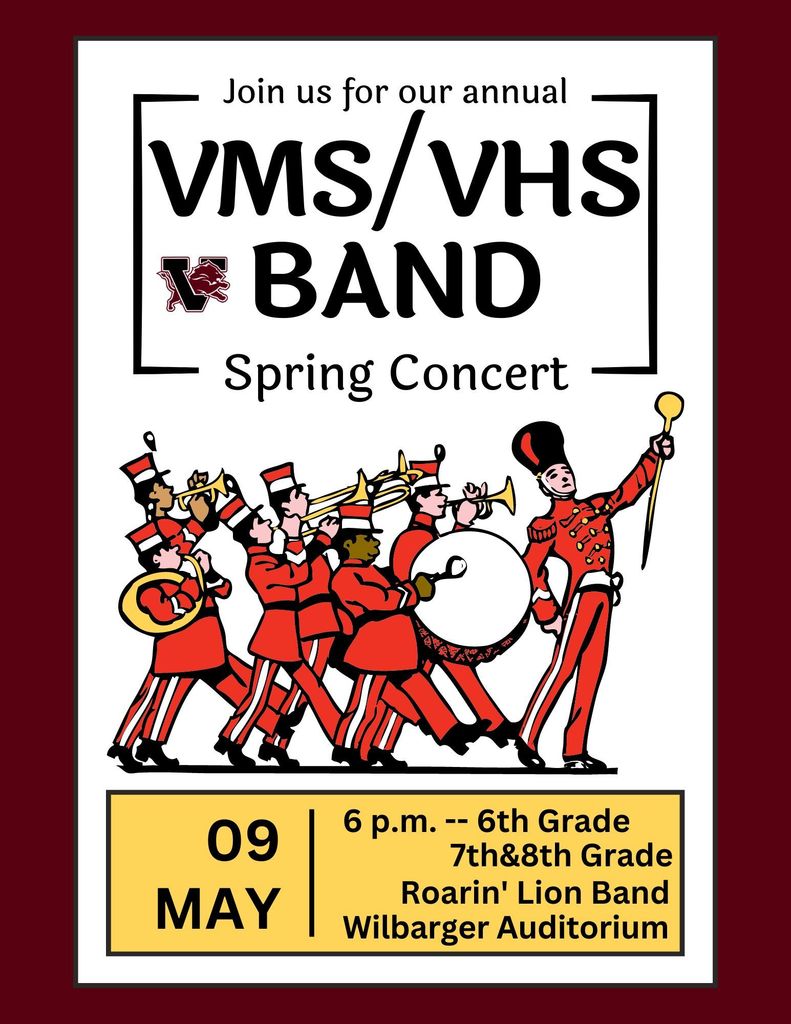 In honor of Teacher Appreciation Week, Vernon ISD Supt. Dr. Kermit Ward will be grilling burgers this week for teachers at all of our campuses. Today, our Vernon High School and McCord Elementary School teachers will receive the special lunch.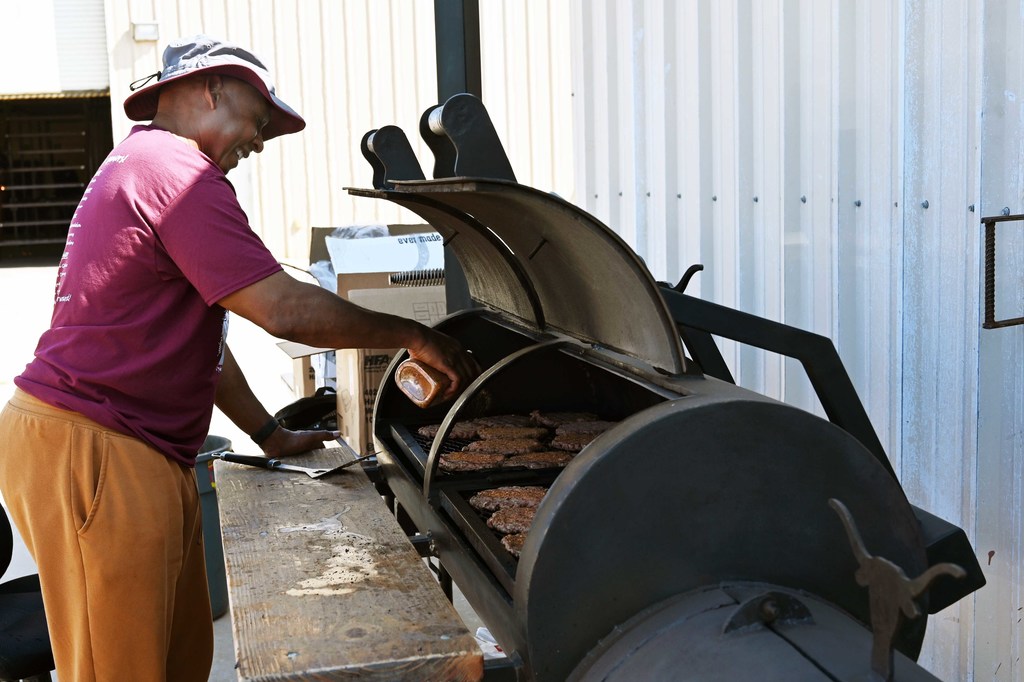 We have outstanding teachers in the Vernon Independent School District who go above and beyond everyday to provide the best education possible for their students. The week of May 7-13 is Teacher Appreciation Week, and while we have some special activities planned this week, we want our teachers to know Vernon ISD appreciates them every single day!
We will announce the Vernon High School Class of 2023 Top-Ranking Students starting Monday. Stay tuned!!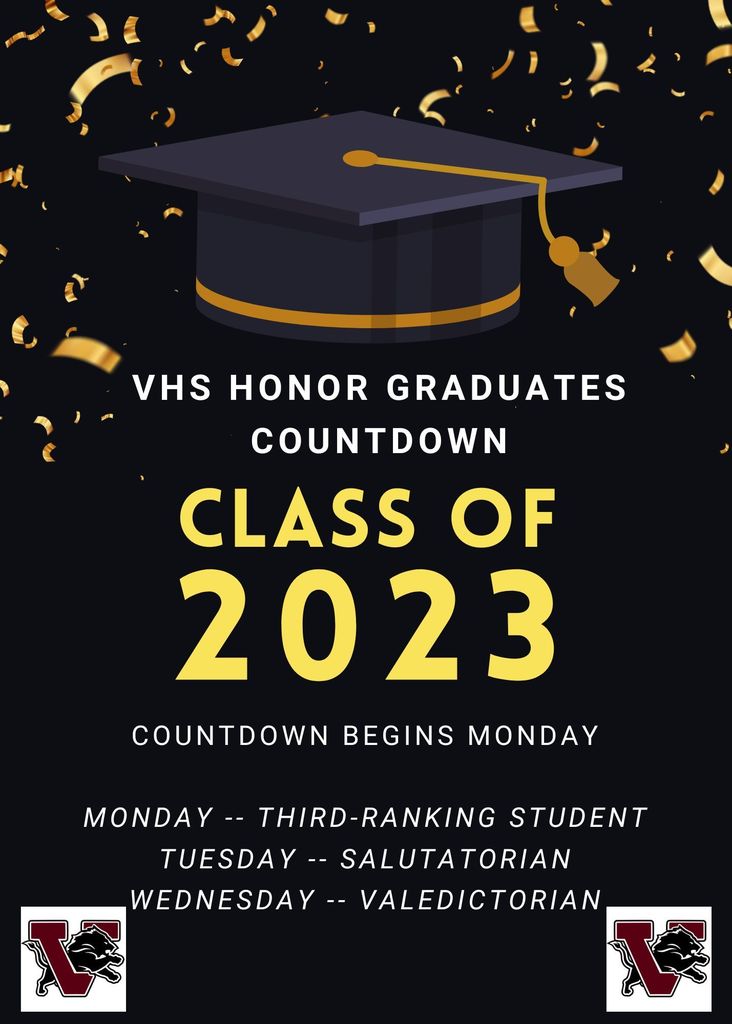 We almost missed it, but we want to take a moment to thank all of our staff members who work in the cafeterias at our five school campuses. You do much more than just prepare the food, and you make a bigger impact on the lives of our students than you realize!! We appreciate each and every one of you!!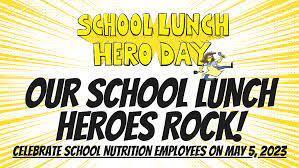 The Life Skill students who participated in the All-Star Olympics held Thursday in Altus were welcomed home in style yesterday afternoon at the courthouse square. The local Texas Farm Bureau, represented by Toby Kitchens and Tiffany Rosalez, presented the students with Sonic gift cards when they returned home.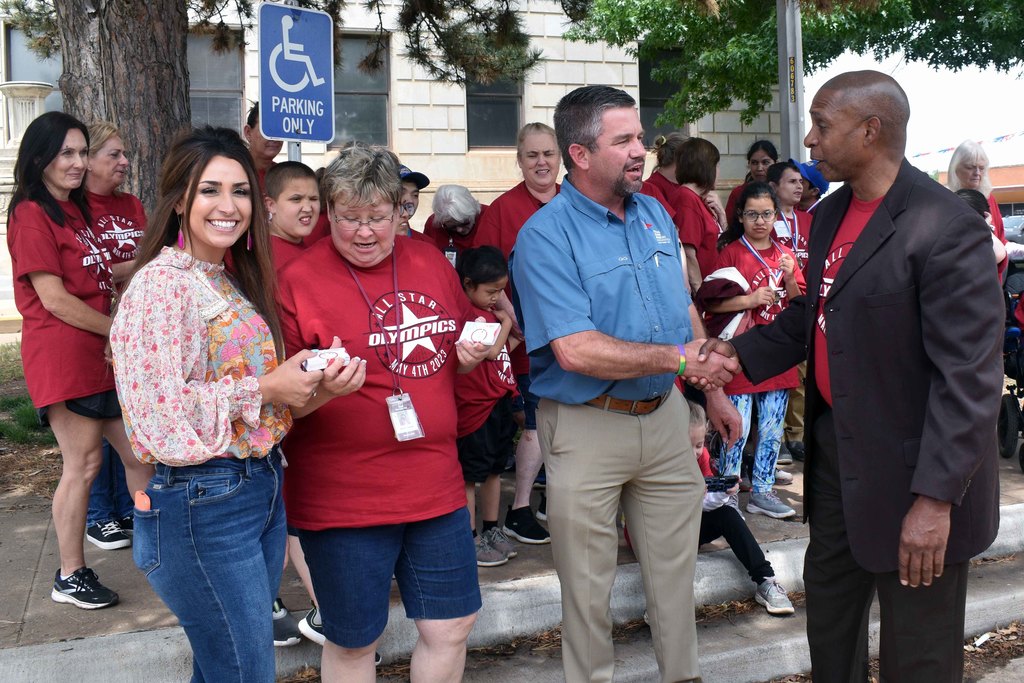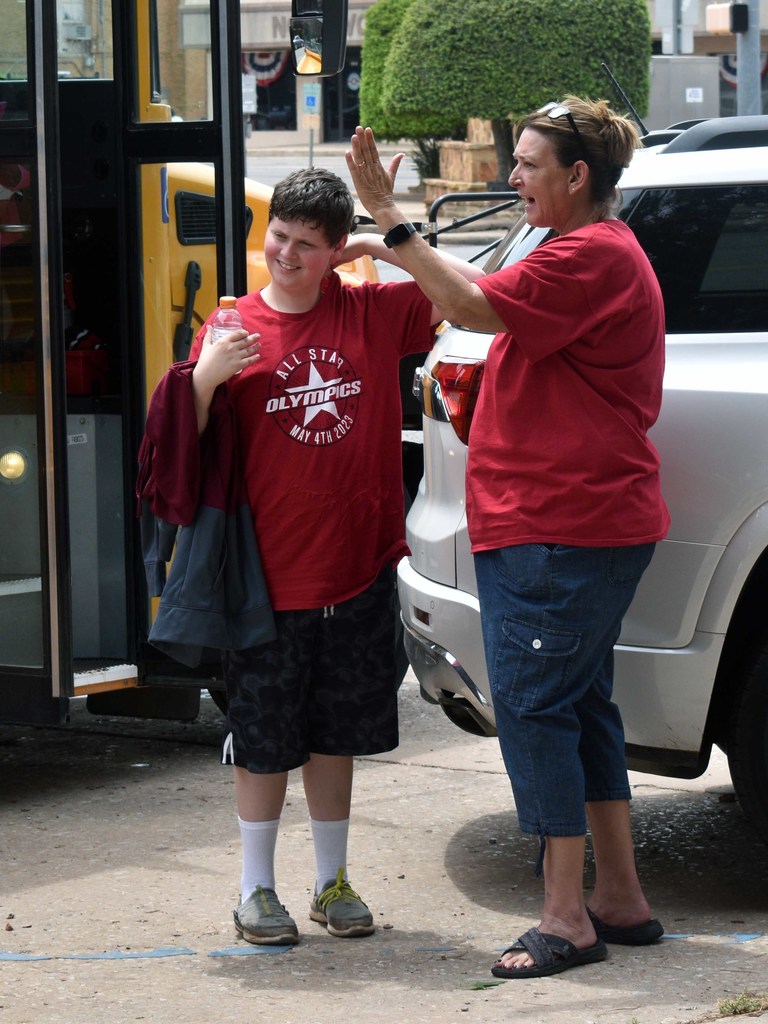 Life Skill students in kindergarten through twelfth grade took part in the All-Star Olympics that were held Thursday in Altus. All the students had a great time and enjoyed the event.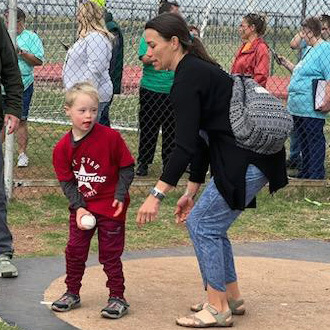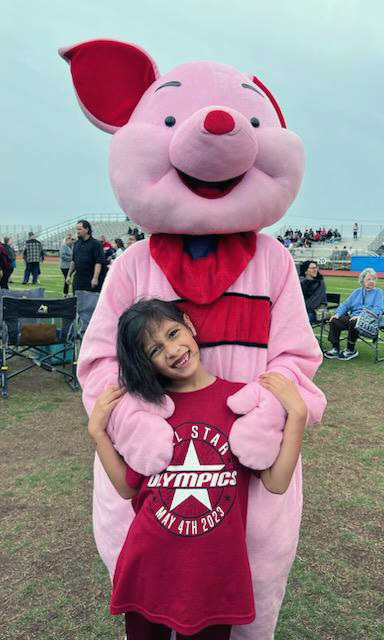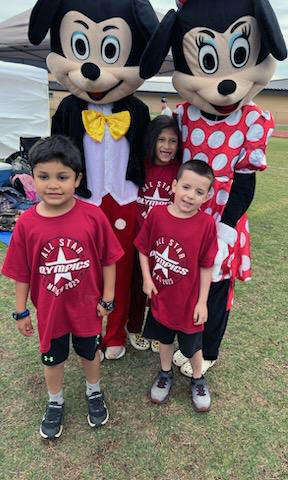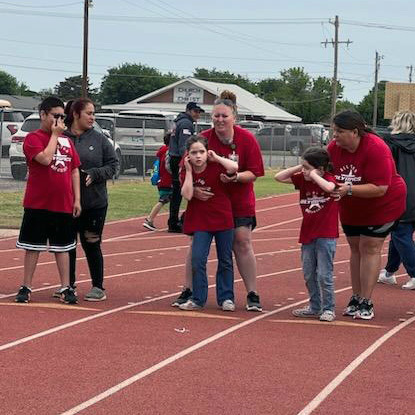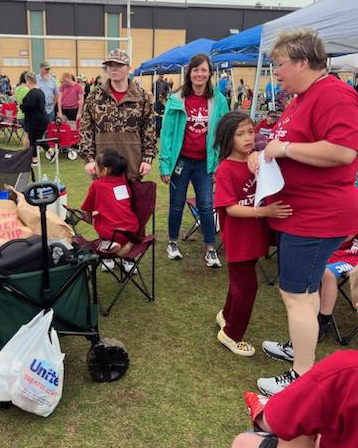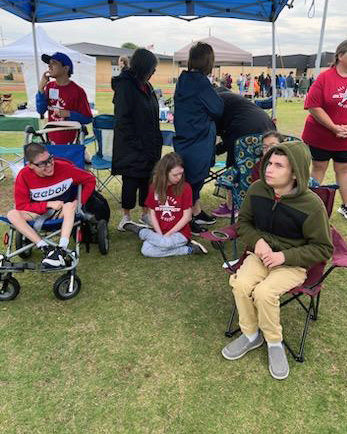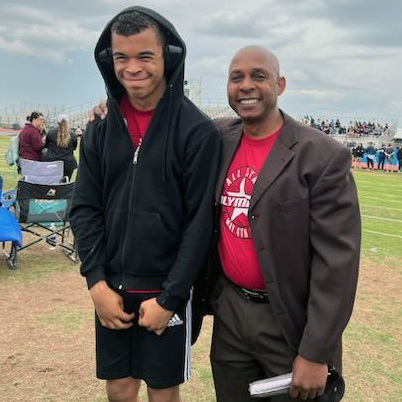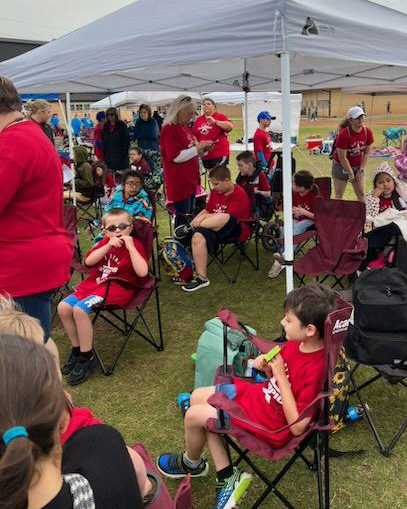 Congratulations to Lions Taylor Maldonado, Tavares Gaines and Javier Perez-Corona!! Selected to represent Lions Football at the Oil Bowl!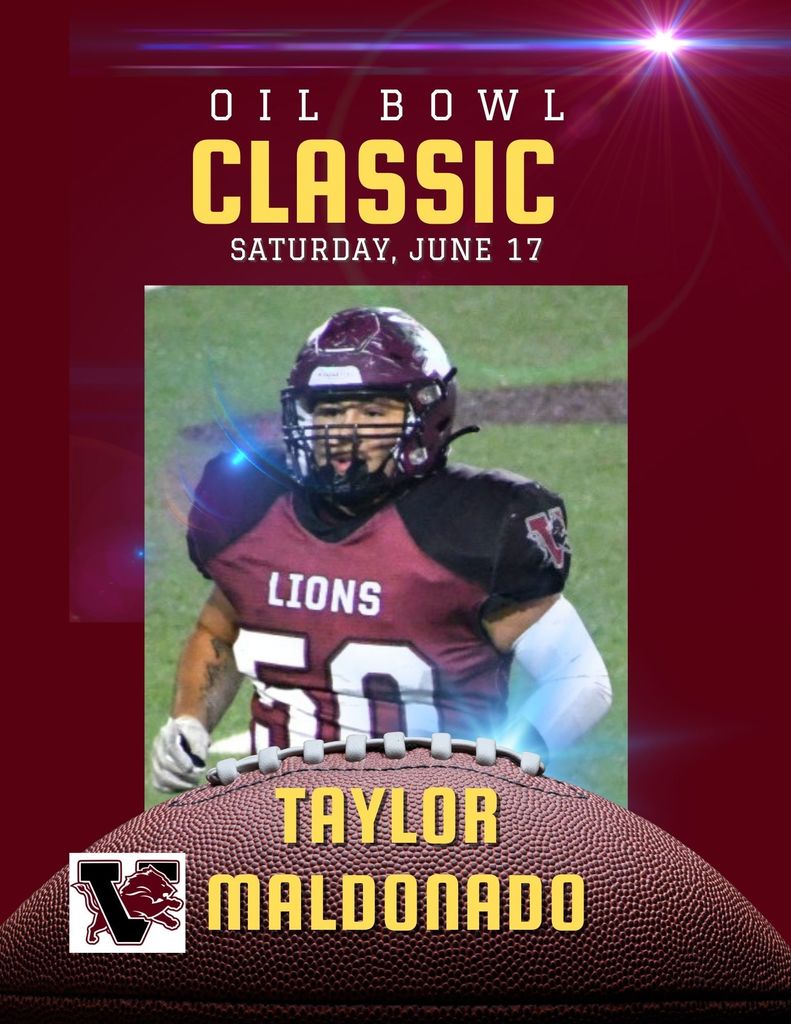 Congratulations to Lions Lavery Gonzales and Sebastian Garza. Representing Lion Basketball at Oil Bowl.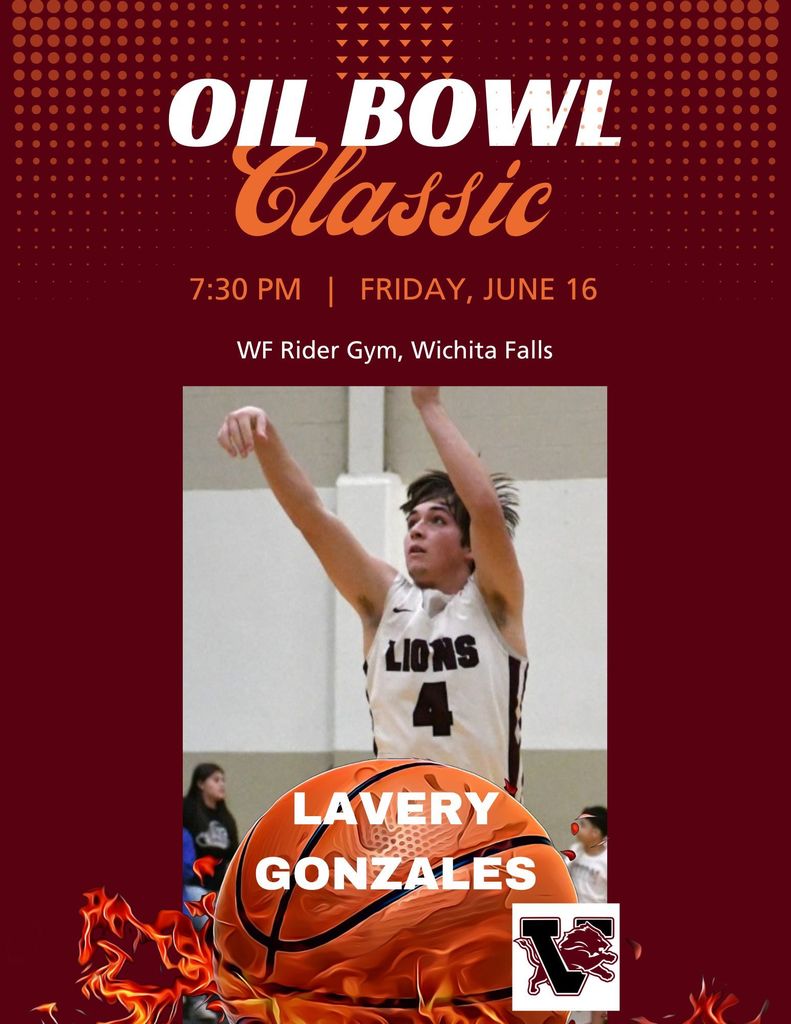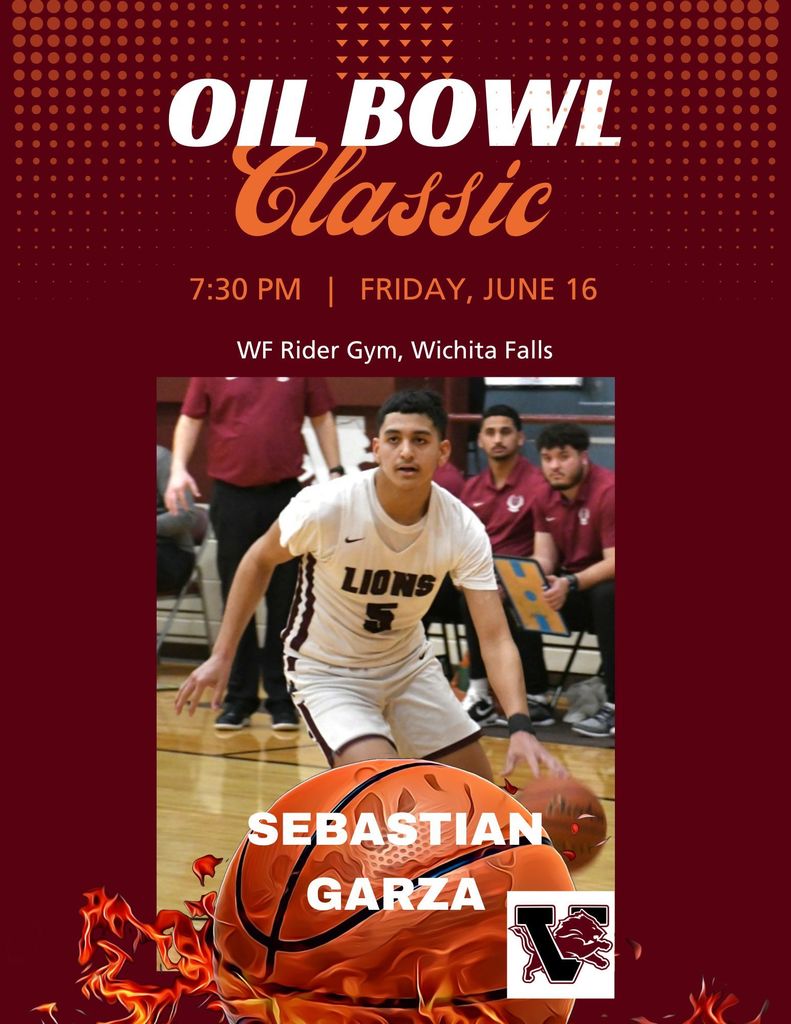 Congratulations to Lady Lion Ashlee Villarreal! Representing Lady Lion Volleyball in Oil Bowl.
It's fun for the kids to relax and enjoy the summer, but it's also important to keep them active. Check out the Champions Volleyball Camp!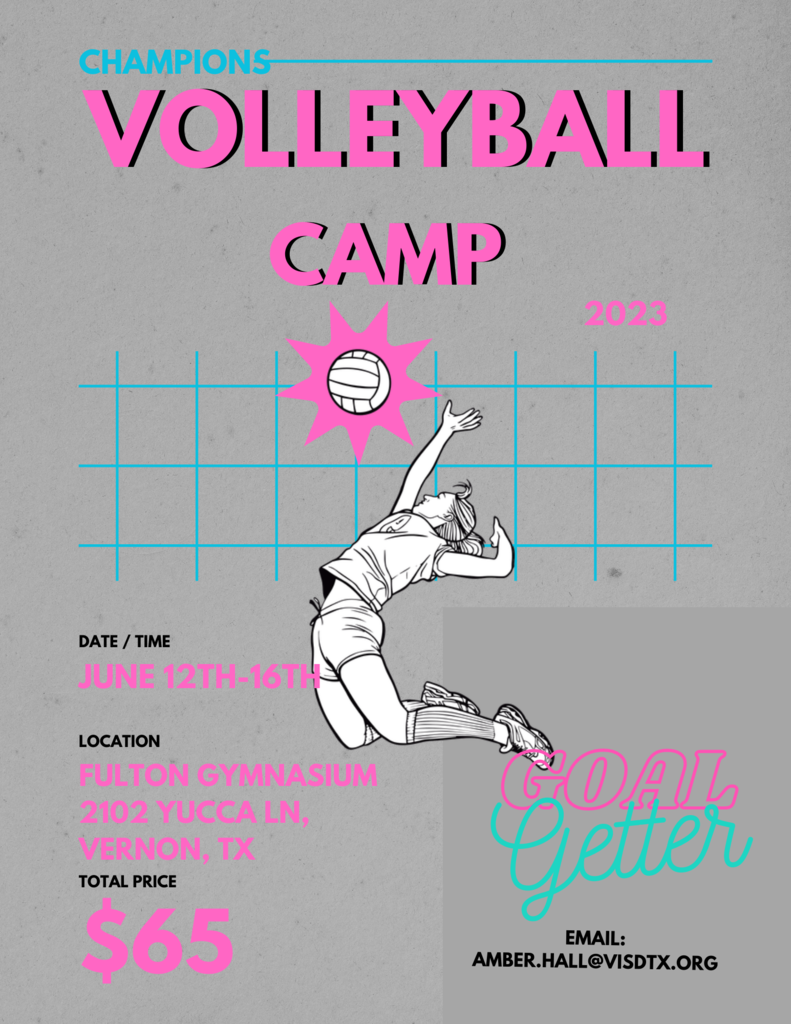 Tomorrow is a special day for our kindergarten through 12th grade Life Skill students, as they will be participating in the All-Star Olympics being held at the Altus Junior High. Activities begin with Opening Ceremonies at 9 a.m., with events starting at 9:30 a.m. and continuing until approximately 2 p.m. when Closing Ceremonies will take place. This will be the first time for our McCord Life Skill students to take part in the event. Those students include Benjamin Brocklehurst, Blake Smith, Blossom Lar, Bobby Duncan, Chandler Stout, Tyler Stout, Davi Sarinana, Ethan Fox-Guerrero, Eutropia Sanchez, Krislynn Lawson, Zeva Echols, Dailynn Wade and Mason Smith. VMS students participating will be Eliana Greene, Evelyn Greene, Jaret Cochran, Kaynan Colbert, Kyle Isnhower, James West, Powasheek De Los Santos, Seth Martin and Isaiah Ingland. VHS students taking part in the games will include Marcus Delgado, Rene Delgado, Nikki De Los Santos, Alex McNally, Genny Roth, and Jesse Fox.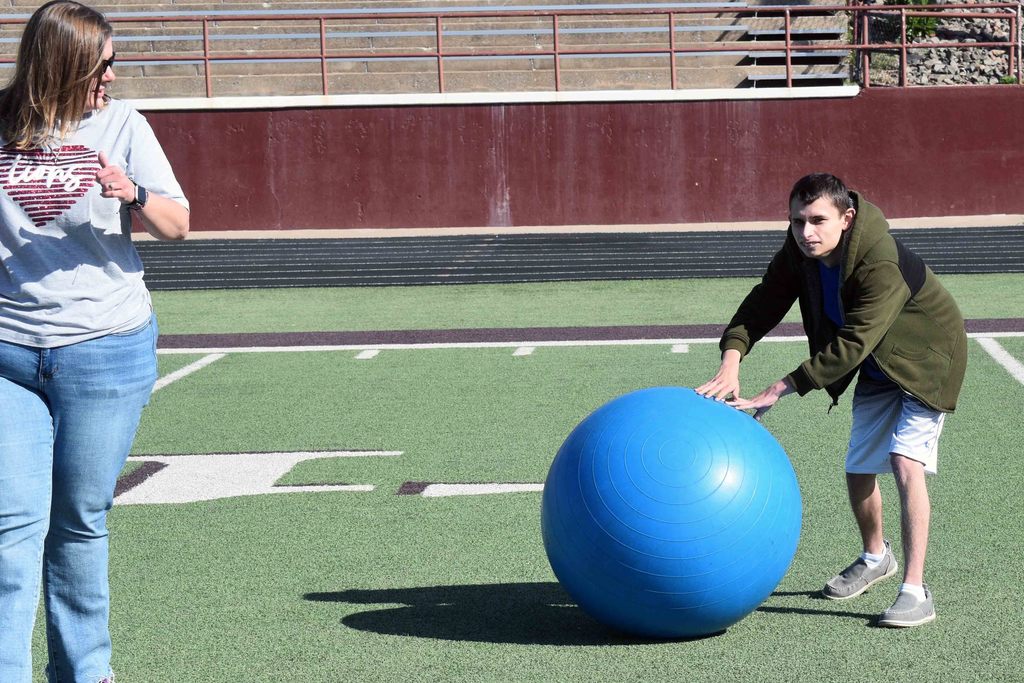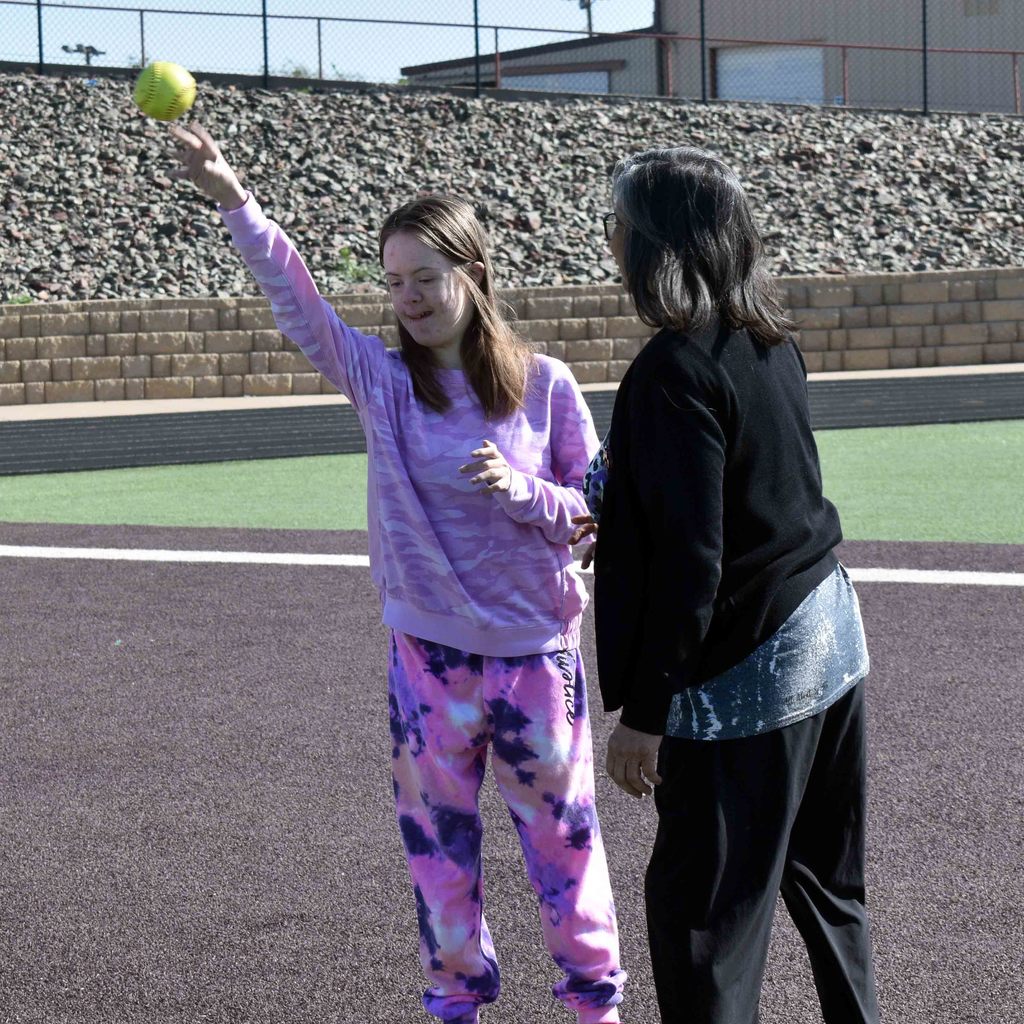 Students have plenty of activities to choose from if they want to stay busy during the summer. Here's another choice -- the Lions/Lady Lions Basketball Camp. Mark your calendar and sign your youngster up today!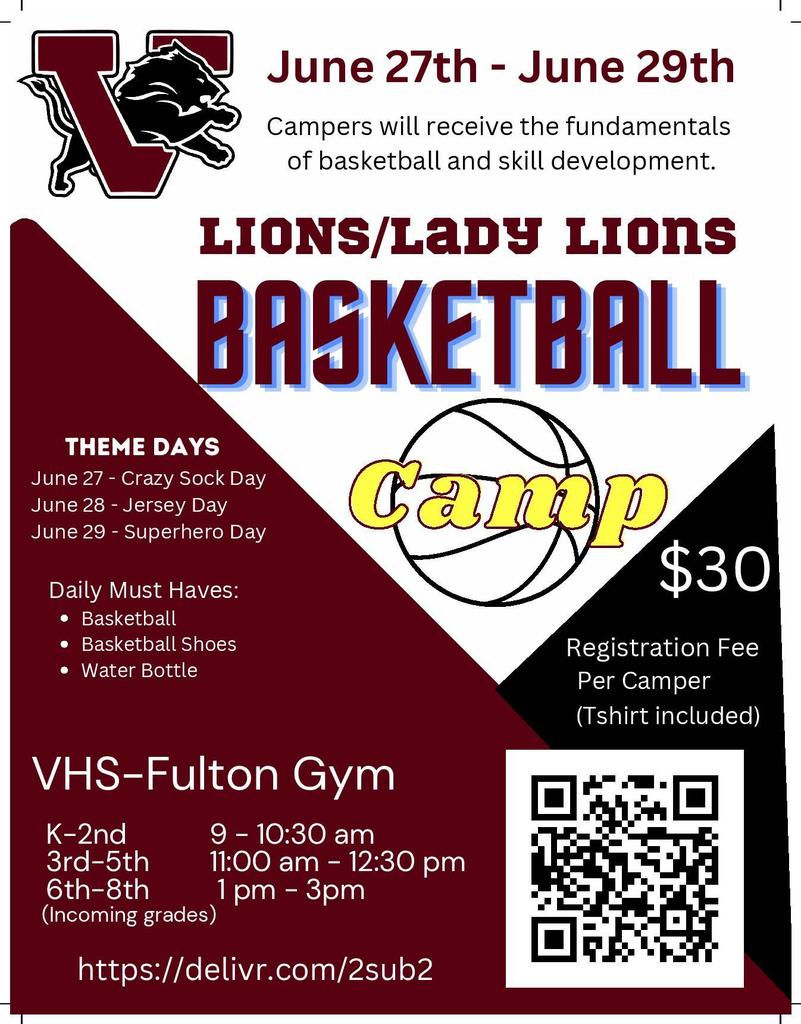 Congratulations to the students of the week! 6th Grade: Elizabeth Patterson and Moo Say 7th Grade: Georgia Balderas and Michael Hernandez 8th Grade: Nicole Calderon and Kyrell Julian