Congratulations to our students of the week! 6th Grade - Ava Lagunas and Ywa Soe 7th Grade - Nyra Espinoza and Aiden Torres 8th Grade - Emma Pena and Oden Lewis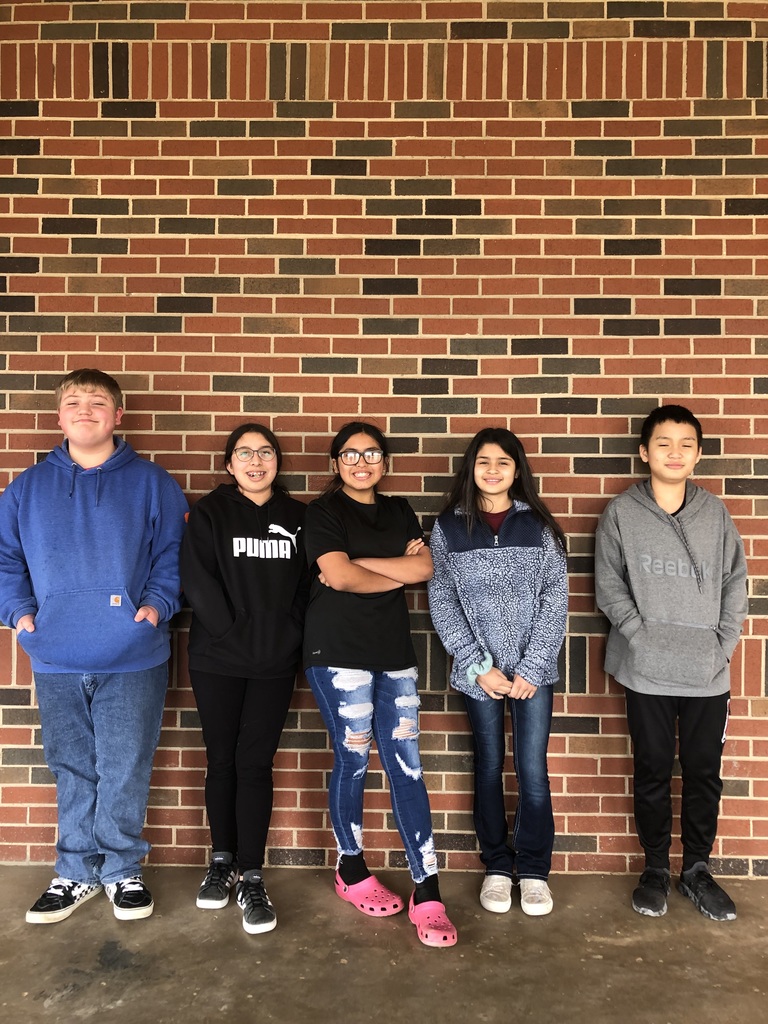 The Community Healthcare Center will be just one of the vendors at the Community Resource Fair being held Saturday at the Vernon High School Cafeteria. Vernon ISD is hosting the event which will give residents the opportunity to learn about the different organizations and resources that are available to them in our area. There will also be donuts and coffee, and activities for the kids, including a bounce house. There will also be some great door prizes. The event begins at 9 a.m., and will continue until noon. Translators will be available from 9 a.m. to 10 a.m. For more information about the Community Resource Fair, contact Nicole Cameron at 940-553-1900 ext. 2248, or at
nicole.cameron@visdtx.org
Help your youngster build a strong education foundation. Check out the information on our pre-k registration for the 2023-24 school year.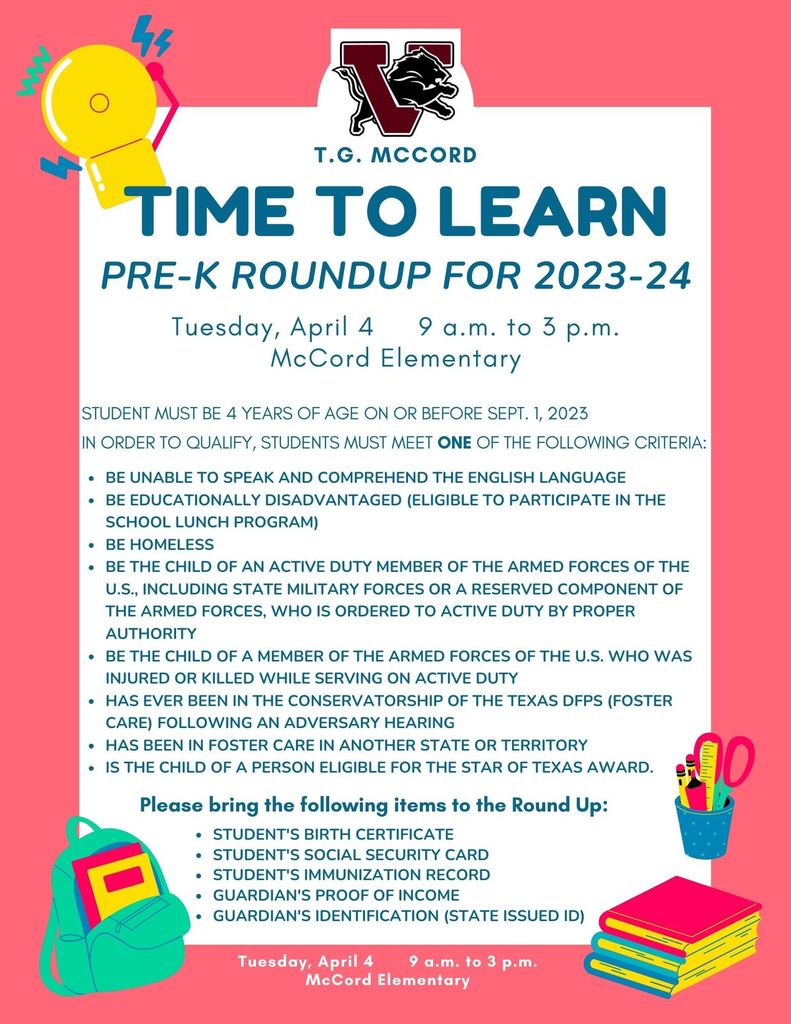 Vernon ISD is hosting a Community Resource Fair Saturday at the Vernon High School Cafeteria. The resource fair will give residents the opportunity to learn about the different organizations and resources that are available to them in our area. A variety of local organizations will have booths at the fair and will be handing information about their group and the services they provide. There will also be donuts and coffee, and activities for the kids. Those who attend the fair can also sign up for a chance to win door prizes. The event begins at 9 a.m., and will continue until noon. Translators will be available from 9 a.m. to 10 a.m. For more information about the Community Resource Fair, contact Nicole Cameron at 940-553-1900 ext. 2248, or at
nicole.cameron@visdtx.org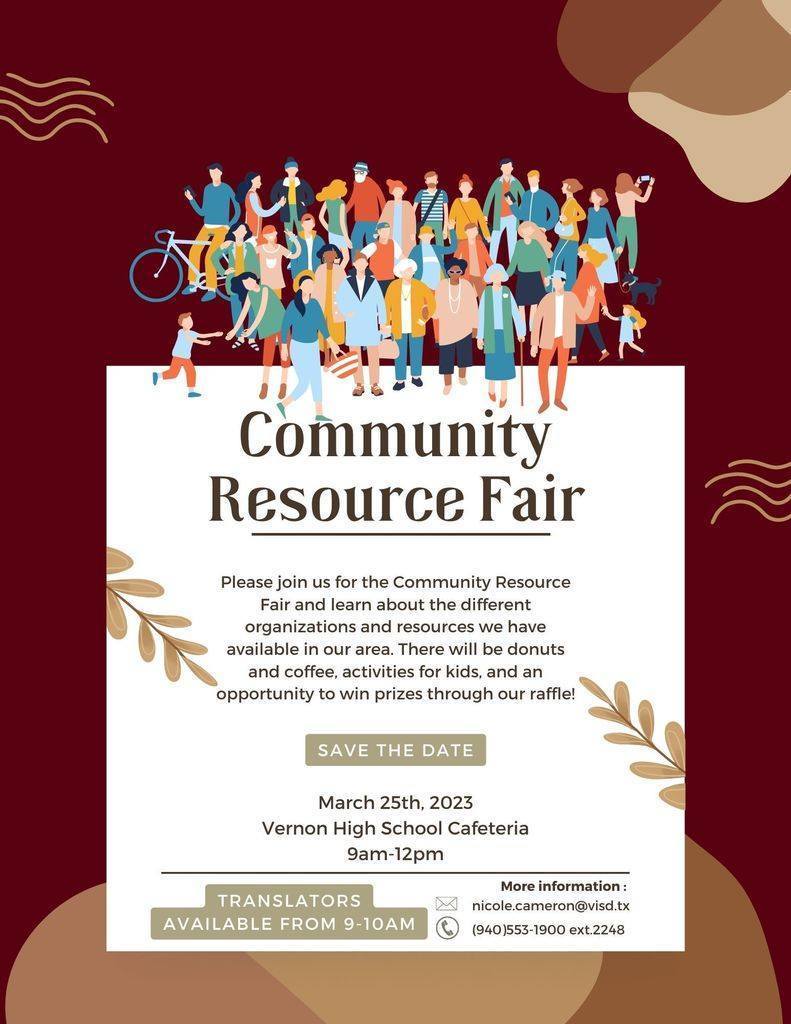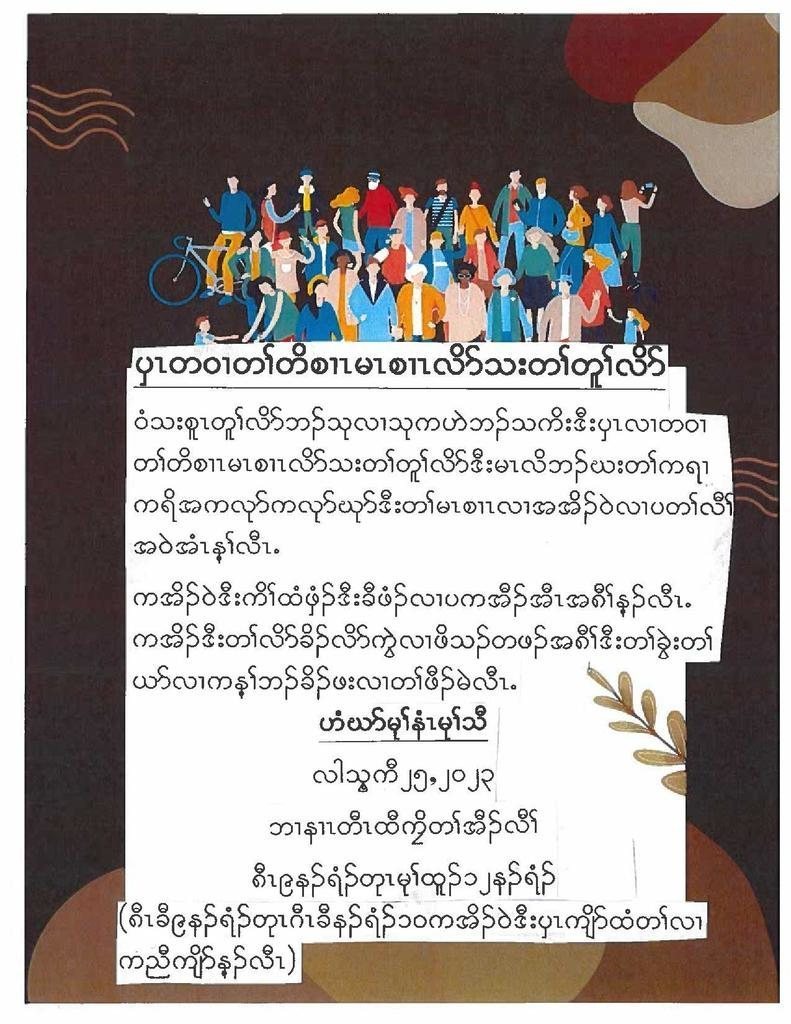 !!!!NEW RESOURCE ALERT!!!! If you are in need of rental or utility assistance, there is a new resource available for you. Texas Rent Relief is currently accepting new applicants for rent and utility assistance from now until March 28th at 11:59 p.m CT. First-time Texas Rent Relief applicants may be eligible for up to 18 months of rent and utility assistance. Returning applicants who have not received the maximum allowed 18 months of assistance for rent and/or utility bills can submit an Additional Funding Request via their existing online user account. Applicants who have already received 18 months of assistance are not able to apply for further assistance. Here is the link to visit the site and put in an application:
https://texasrentrelief.com/
There is an option on the site to change languages. If you have any questions or not sure if you qualify, reach out to Nicole Cameron at (940)553-1900 ext.2248.
Here is info on today's track meet in Childress. Good luck to our athletes!!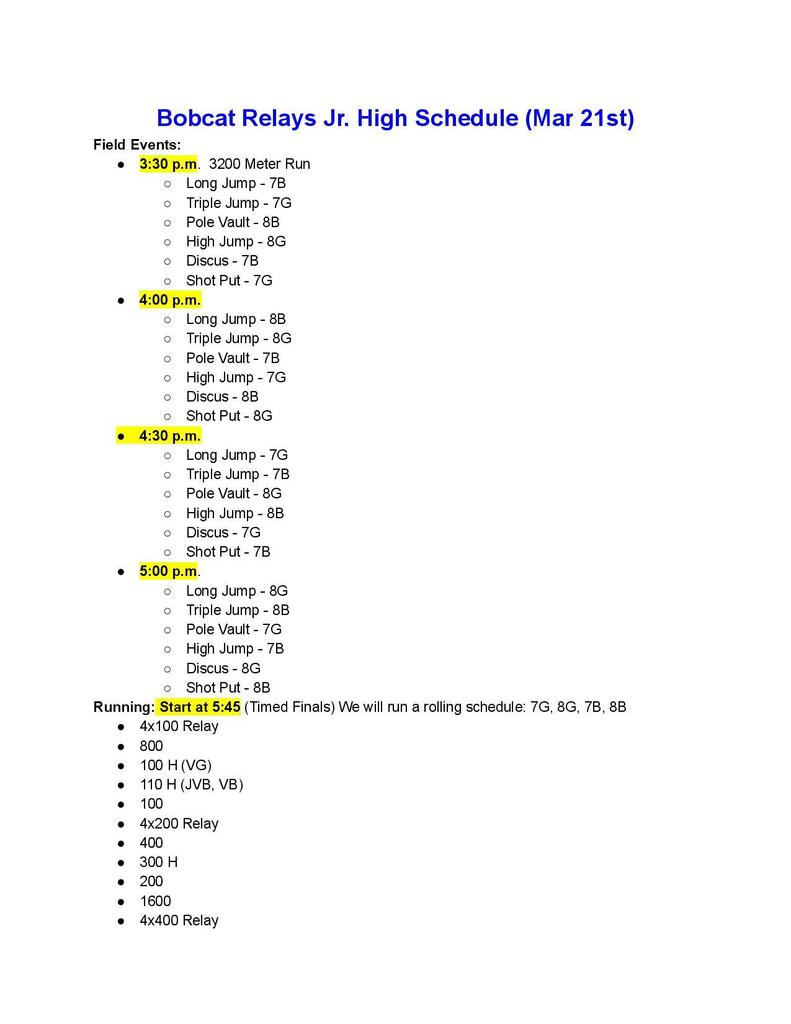 Kid League Baseball Registration Ends Wednesday, March 22, 2023. Parents interested in registering their child to play Kid League Baseball should register them online using the website address listed here:
https://bit.ly/KLBRegistration23
Parents can download a copy of the League's Registration Form here:
http://bit.ly/3ZfC3a7
For questions, please contact the League Director, Dustin Fraticelli at (940) 357-9422.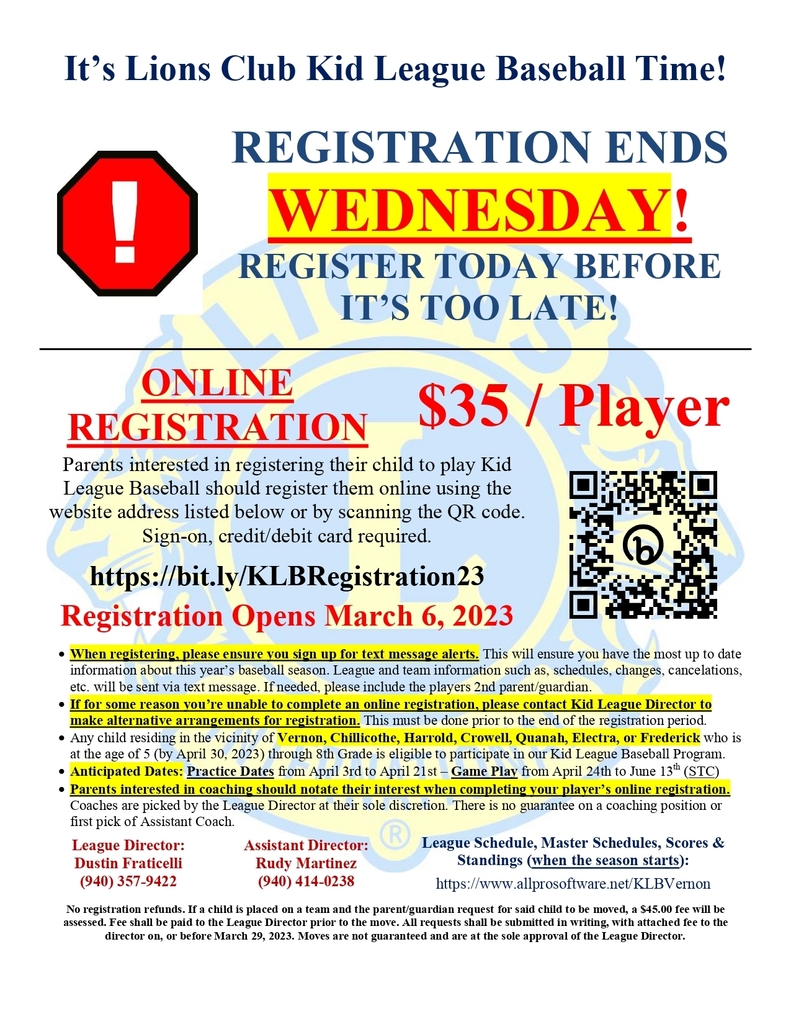 🌻SPRING BREAK🌻 Just a reminder that all Vernon ISD Campuses will be closed Friday, March 10-Friday, March 17 for Spring Break. All campuses will resume on Monday, March 20.

📅2023-2024 DISTRICT CALENDAR📅 Here is the board approved district calendar for the 2023-2024 school year.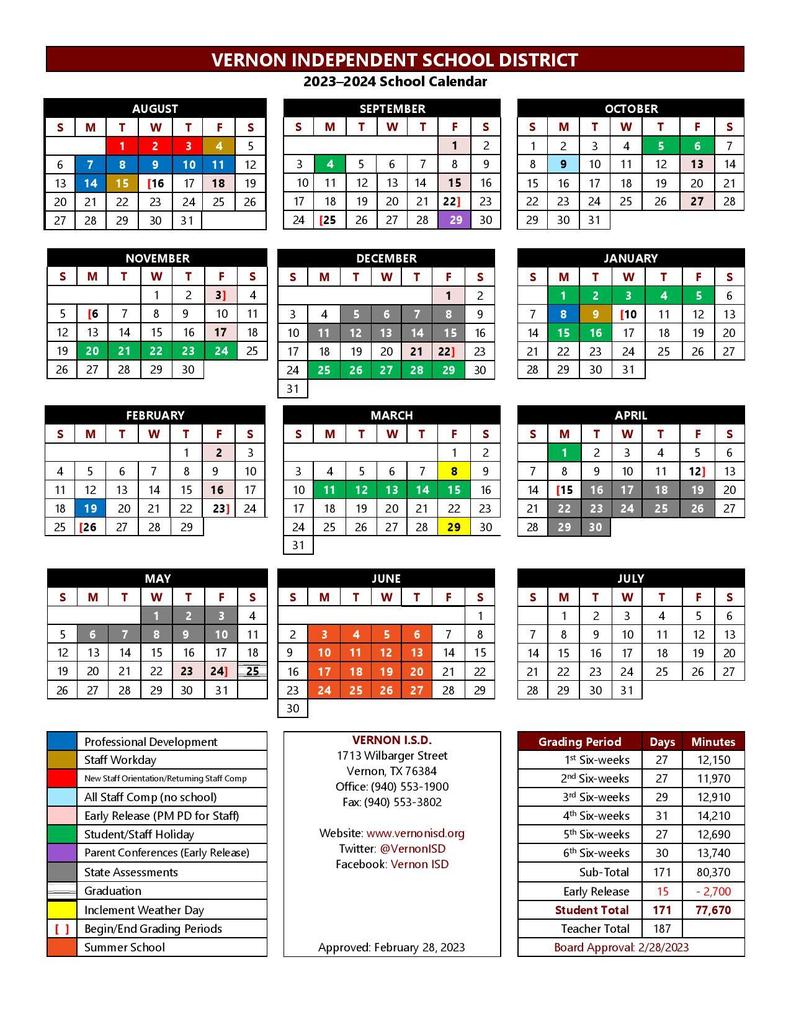 Today, our VISD Superintendent, Dr. Ward, met with all staff to discuss teacher retention and pay. He stated that the VISD Board of Trustees and many district staff have been working hard to propose a new salary scale. While details are still being worked out, and the current state legislative session may have further impact on the teacher pay increases, he wanted the staff to know that their hard work and dedication does not go unrecognized by anyone. More information will be posted publicly as it is finalized. In the meantime, please take a moment to watch this video that has been created to discuss teacher retention:
https://drive.google.com/file/d/1Frbq-1dhtolJw3tYAgv5jvulT0sIV9Om/view?usp=sharing

🍕MARCH CAFETERIA MENU🍕 Attached is the cafeteria menu for March.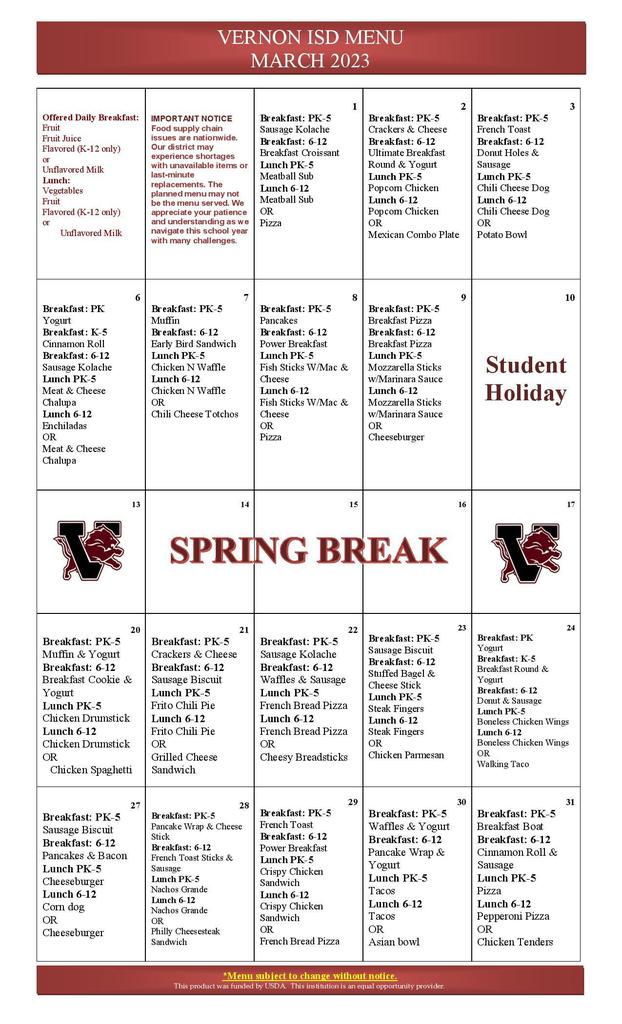 SAVE THE DATE!!! Join us on March 25, 2023, for our Community Resource Fair. For more information, please reach out to Nicole Cameron at
nicole.cameron@visdtx.org
or (940)553-1900, ext. 2248.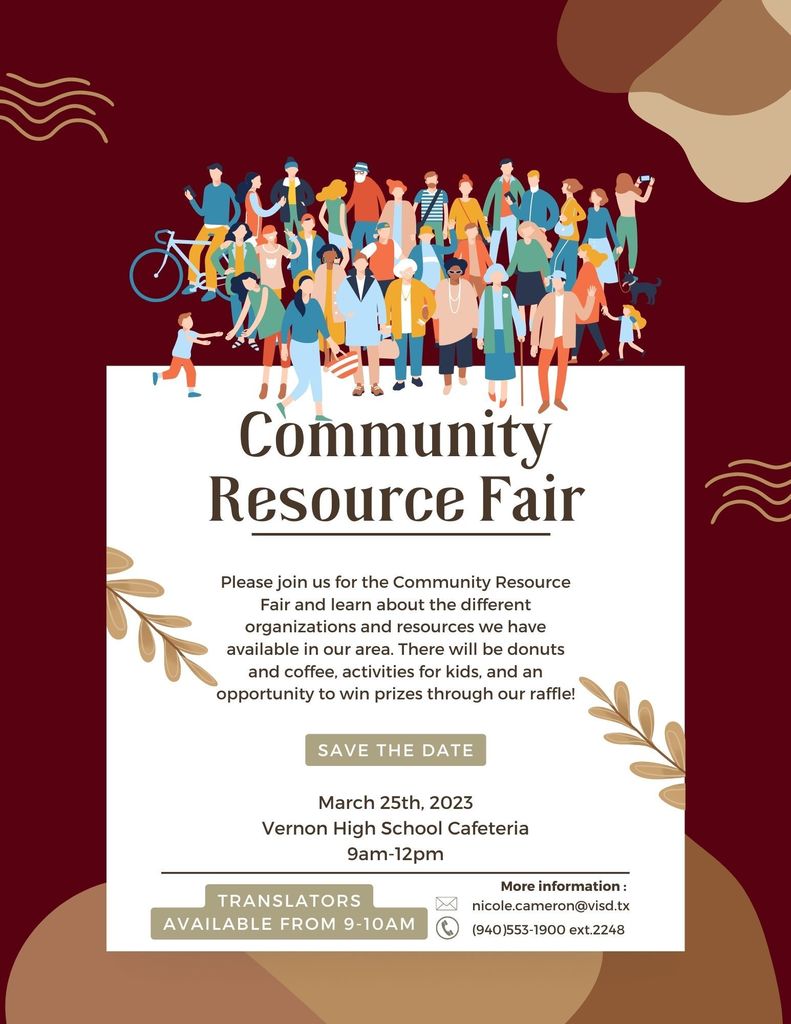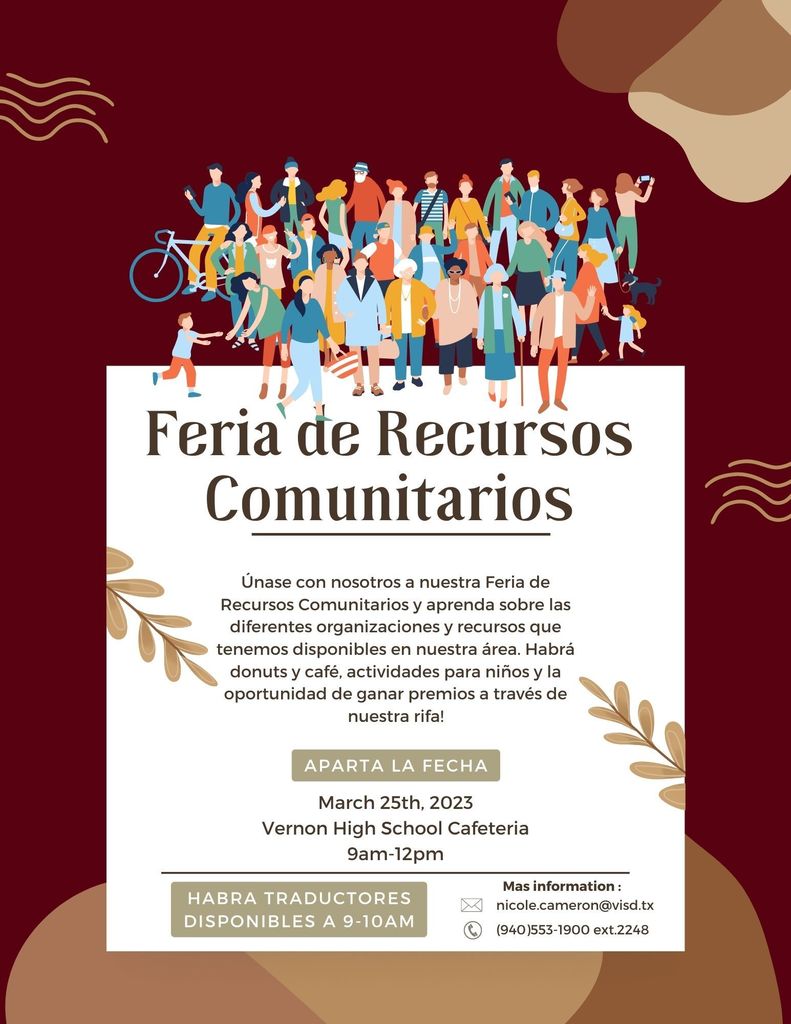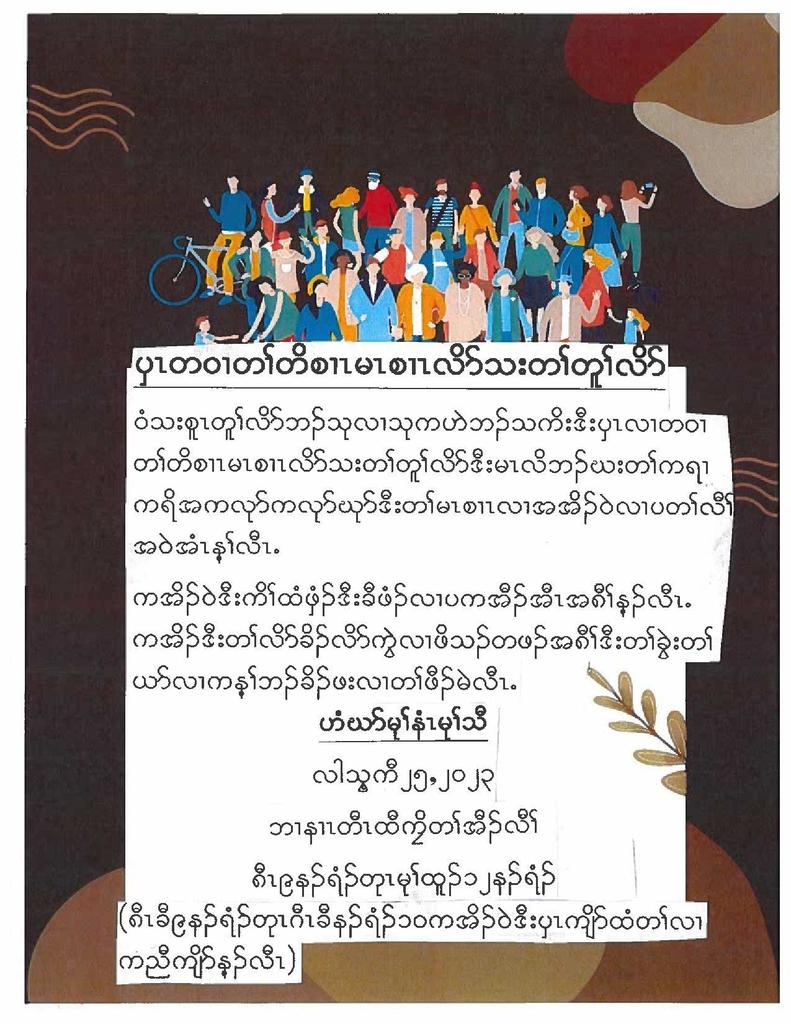 Dr. Harrison is here today visiting with our VMS and VHS students about bullying prevention. This morning he was at the high school and this afternoon he'll be talking to our middle school students. Our students were great in the presentation and by now I am no longer even surprised! Please remember that Dr. Harrison will be at the Wilbarger Auditorium TONIGHT at 6:00pm for our parents and the community. Please come out and participate so that we can all work together to prevent bullying in our schools.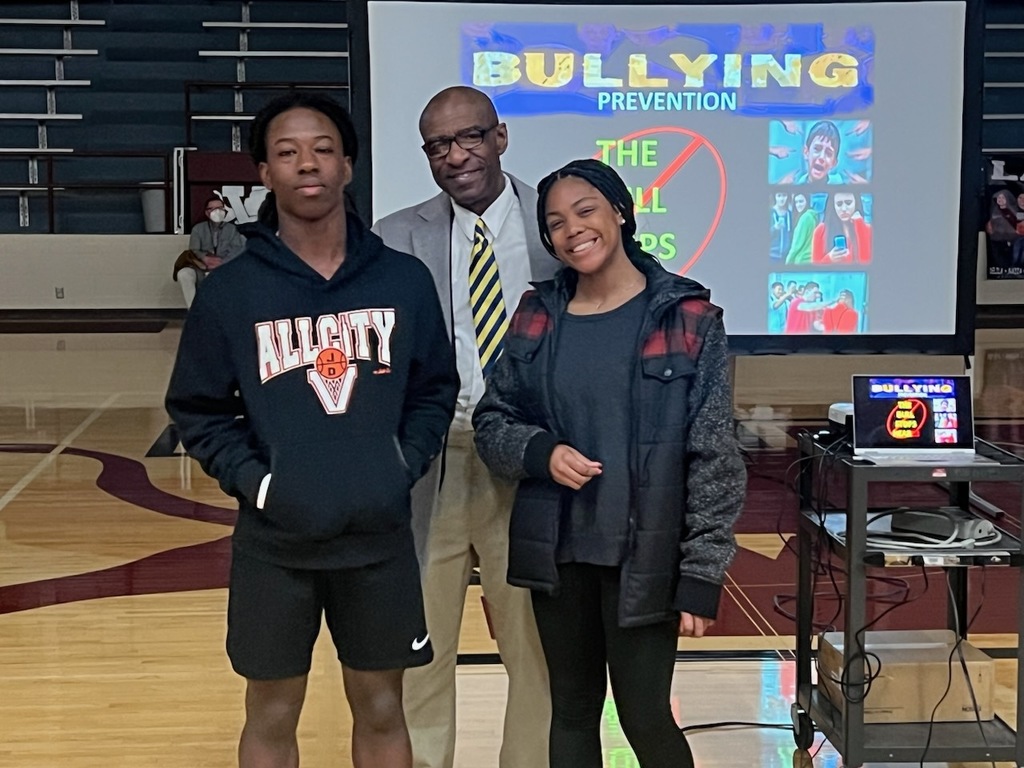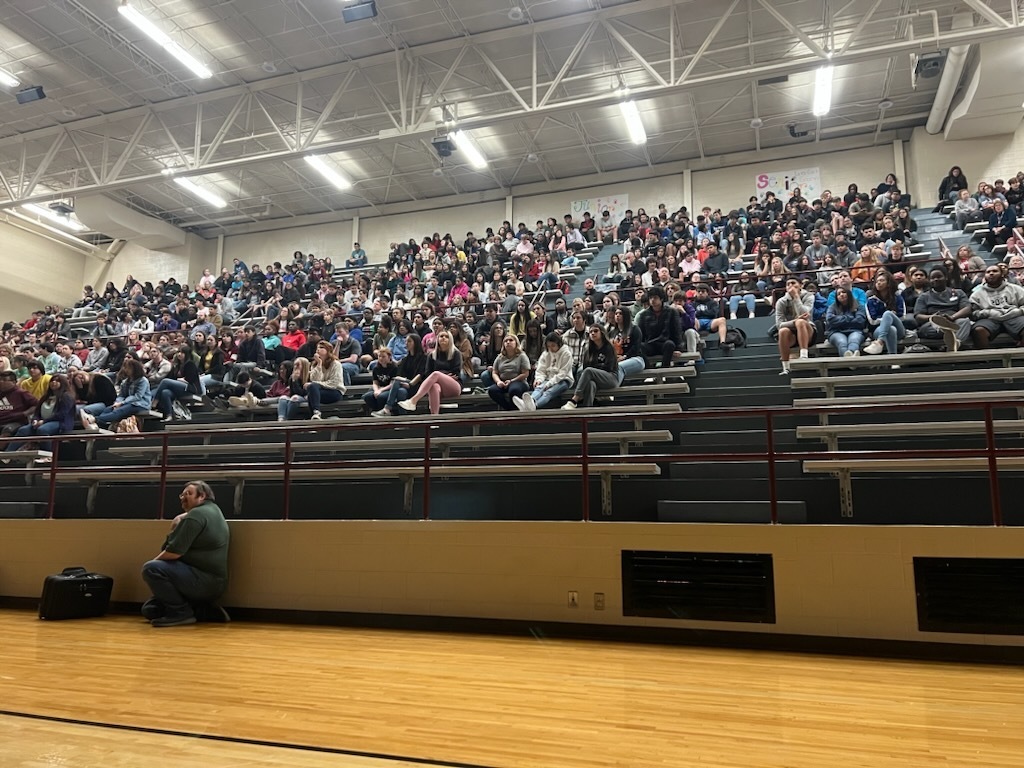 I maintain that VISD kids are collectively the best kids I have ever been around. Our kids consistently demonstrate to me that they are not resistant to working within the expectations that we set for them. Although expectations for our students existed here before me, I encourage each staff member in this district to evaluate those expectations and ask themselves are there opportunities to elevate our current expectations thus forcing our kids to perform at an even higher level. While I do not consider bullying to be a critical issue in VISD, it is an issue that I want us to address. We have a responsibility to the community, and to our kids, to be proactive in our planning. For this reason, we are bringing Dr. George Harrison to Vernon to speak to our students. He will be meeting with the VMS and VHS students during the school day. In addition, we have asked him to meet with our community and parents as well. We want everyone to work together to help prevent bullying. I am encouraging each VISD parent to support the district's effort and attend the parent presentation on bullying on Tuesday night at 6:00pm at Wilbarger Auditorium. Dr. Ward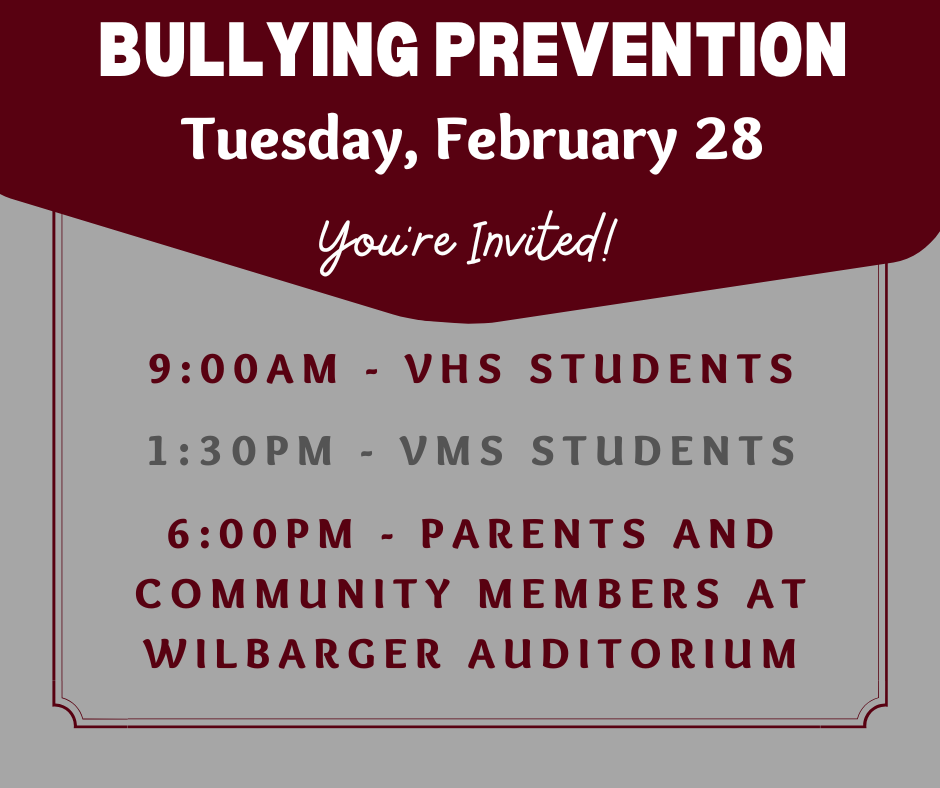 The GT students did a great job with their presentations for three judges and Dr. Ward last week. They worked for almost a month on a Community Improvement Project and worked up a proposal on how they could use a million dollars to "better our town." One group chose commerce. They researched the cost, viability, and necessity of bringing in a strip mall to increase city revenue and occupancy. The other group chose conservation. They researched the cost, necessity, and management of building and maintaining a year-round community garden to help promote healthy eating and feeding the homeless population. After the presentations and questions/answer segments, it was determined the conservation team won. They will be presenting to the board on Monday at 6:30.
Congratulations to our students of the week! 6th Grade: Brynlee Rozzell and Jacobi Pedigo 7th Grade: Olivia Hawkins and Ryan Fieldhouse 8th Grade: Alyssa Adams and George McCarty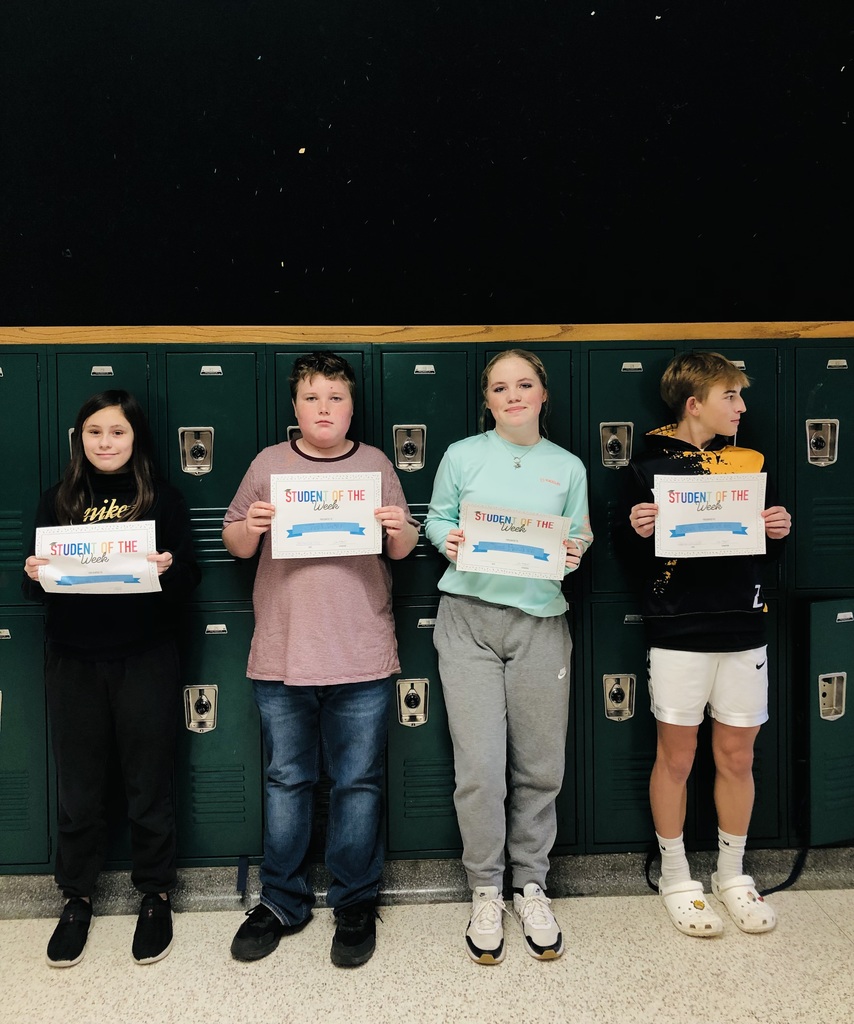 Vernon ISD is bringing in Dr. Harrison to talk to our students and community about bullying prevention. Dr. Harrison will be at the following locations on February 28. - Vernon High School to meet with the students at 9:00am - Vernon Middle School to meet with the students at 1:30pm - Wilbarger Auditorium to meet with the parents and the community at 6:00pm We look forward to working with our students and the community to prevent bullying.

The 1st Annual Vernon ISD Education Foundation 4-person Golf Scramble is scheduled for April 22, 2023. All are welcome to participate! The Vernon ISD Education Foundation is a non-profit organization, created to uphold our mission of being an exemplary education community. In this inaugural year, the Foundation aims to raise funds to support teachers and staff in their role of increasing achievement and academic success for our students. Sponsorship opportunities are available. For more information, please contact Kori Eakin at
kori.eakin@visdtx.org
or by phone (940)553-1900 ext. 2229.

⚾Vernon Lions Club has a KID LEAGUE BASEBALL ANNOUNCEMENT! Registration Starts: Monday, March 6, 2023 to Wednesday, March 22, 2023 (Registration will NOT be accepted after March 22, 2023) ONLINE REGISTRATION: $35.00/Player Parents interested in registering their child to play Kid League Baseball should register them online using the website address listed here:
https://bit.ly/KLBRegistration23
Download a copy of this Registration Form here:
http://bit.ly/3ZfC3a7
(Registration information will be sent home with your student in the upcoming weeks) For Questions, Please contact League Director, Dustin Fraticelli at (940) 357-9422.